WASHINGTON, Oct 1 (Reuters) - U.S. President Barack Obama turned to low-key insider Pete Rouse to replace high-profile chief of staff Rahm Emanuel in a prelude to a wider staff shake-up expected at the White House.
Obama named Rouse, a veteran Capitol Hill operator, to take over at least on an interim basis from Emanuel, 50, who announced his resignation as Obama's top aide to launch a campaign for Chicago mayor.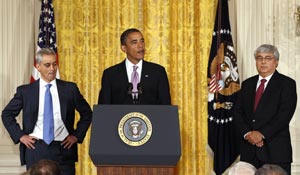 U.S. President Barack Obama (C) announces Pete Rouse (R) as his interim White House Chief of Staff in the East Room of the White House on Friday. Reuters
More turnover is expected with the Nov. 2 congressional elections presenting a traditional period for aides, exhausted from long days over the past two years, to move on. Obama is likely to face a more hostile U.S. Congress next year with Republican gains expected in the elections, and that could be a factor in how he reshapes his team.
The changes could signal a fresh start as he tries to boost his weak poll numbers and prepare for his 2012 re-election campaign.
Rouse, 64, is one of Obama's longest-serving aides, working for him since Obama was a U.S. senator from Illinois. He was previously chief of staff to Democrat Tom Daschle when he was a senator, so influential that he was sometimes called "the 101st senator."
White House spokesman Robert Gibbs said Rouse has "always put the organization ahead of himself" and has Obama's complete trust. He said Rouse would serve at least for several months and would be on the short list to hold the job longer.
Rouse is a relatively quiet operator compared to Emanuel, a former U.S. congressman from Illinois who is famous for his colorful language. "Obviously these two men have slightly different styles," Obama joked. "Pete has never seen a microphone or a TV camera that he likes."
Obama gave star treatment to Emanuel, who helped shepherd through the Congress Obama's $814 billion stimulus and his overhauls of U.S. healthcare and financial regulations.
Republicans will try to repeal Obama's healthcare reform and bring in spending cuts if they do well at the elections.