LONDON, Oct 3 (Reuters) - Former military ruler Pervez Musharraf has apologised to Pakistan for mistakes he made in office and said he will return to the country as the new head of a political party in time for elections due by 2013.
Musharraf, who seized power in a coup in 1999, has lived in exile in London since quitting in 2008 to avoid impeachment. He would risk being arrested or killed if he returned. "I will be in Pakistan before the next election, whatever the dangers," he told a conference to launch his political career as the new leader of the All Pakistan Muslim League.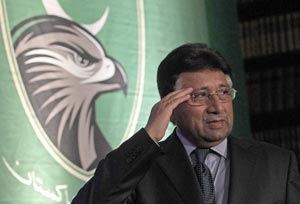 Pakistan's former president Pervez Musharraf gives a news conference at the launch of his party, the All Pakistan Muslim League, in London on Friday. Reuters
Musharraf, who become embroiled in a row with the judiciary and briefly imposed a state of emergency in 2007, said he realised his popularity had plummeted because of some wrong decisions he had made in the last year of his presidency.
"I take this opportunity to sincerely apologise to the whole nation for those wrong decisions," he told a meeting of several hundred supporters, which was also broadcast live on screens in the Pakistani cities of Lahore and Karachi.
"I have learned my lessons and I am very sure I will not repeat them again." Lawyers say if he were to return to Pakistan Musharraf could face a number of court cases, including over the death of a Baluch separatist leader and violation of the constitution.
He would also risk assassination by Islamist militants seeking revenge for crackdowns he ordered against them. But Musharraf said he believed his country was in danger and that as a "patriotic Pakistani" it was imperative to save it. He dismissed accusations against him as politically motivated.Pakistan has faced political instability, a wave of bombings by Islamist militants and most recently devastating floods.
The government, led by the Pakistan People's Party of the late Benazir Bhutto -- whose husband Asif Ali Zardari is now president -- has struggled to cope with the multiple challenges.
Political analysts, however, say Musharraf -- whose support for the U.S.-led war in Afghanistan was also deeply unpopular -- would have an uphill struggle to make much headway in politics."Traditionally, military rulers have not succeeded in popular politics, including those who went to the opposition," said political analyst Hasan Askari Rizvi.
"He'll have to come back and demonstrate his support. While sitting in London you can't really do politics."
Political commentator Najam Sethi said Musharraf's party faced big hurdles. "Musharraf does have a constituency but since the two mainstream parties, the media and the judiciary are against him, the short-term prospects don't look good."