The most expensive film ever made in India has been released. Tamil star Rajinikanth's latest film Endhiran (The Robot) has been made with a budget of 1.6bn rupees ($35m), according to the film's makers.
Fans queued for tickets overnight in the southern city of Madras (Chennai) ahead of Friday's release. Analysts expect box-office records to be broken. The 60-year-old actor has a huge fan following. Opposite him in the film is Bollywood superstar Aishwarya Rai.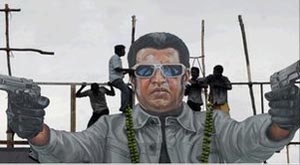 Fans of Rajinikanth pour milk as an offering over his cut-out on the release date of his new movie Endhiran (Robot) in Madras. Rajinikanth is Tamil cinema's biggest superstar
A science-fiction fantasy thriller, Endhiran is being screened in nearly 2,000 cinemas worldwide. The film has also been released in Hindi and Telugu. Rajinikanth's fans celebrated the release by lighting firecrackers and beating drums. In Madras, his larger than life-size posters were washed with gallons of milk, a sign of purity.
Huge expectations were generated for the film over the past few years — its makers claimed that its technical effects would challenge Hollywood films like Terminator and Godzilla. Those who have seen the film say its technology and graphics are far superior to other Indian films.
Rajinikanth has made more than 100 films and is Tamil cinema's biggest superstar. His movies are a hit not just in India but in other parts of the world which have large Tamil populations.
His films are generally a colourful spectacle with song-and-dance routines and death-defying stunts.
Critics, however, say the actor is a bad role model — in some of his past movies he was shown stylishly lighting cigarettes and activists say this promotes smoking among his fans, who include many children.
A former bus conductor, Rajinikanth started his film career as a villain. Today, at 60 he is called the "ageless superstar" and has a cult-like following.
His critics say it could be time for him to retire. The Robot visibly shows his age in spite of heavy make-up.
But, going by the reaction of his fans, it seems Rajinikanth has nothing to fear.
Courtesy BBC