A novel festival of new arts to promote young talent using latest audio- visual technologies is organized in order to bring new insight to religious belief.
'Jesus Today'-Electronic Arts Festival organised by 'Kithusara' meaning 'The Essence of Christianity', an organization comprising of priests of different Christian communities and youths, the main aim of the festival is to uncover new talent and identify the mission of Jesus in the present world through the new medium of arts.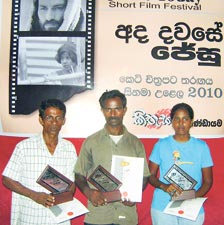 Winners of early this years short film festival.
Open for young creators from any religious or ethnic group, the competitions are held on two languages Sinhala and Tamil and in two categories school and open. Six areas of competitions under the theme 'Jesus Today' include short film, photography, Creative Animation, short power point presentation, short television documentaries and Visuals for hymns. The screening and exhibition of winning creations will be held at 3 pm on December 12, 2010 at Rukmani Devi Theatre, Negombo. The festival is following the success of short film festival organized early this year under the same theme.
Short films should be less than five minutes and should be made in DVD format while animations could be in 2Dor 3D in DVD format. Power point presentation should be in audio and visual mediums and less than five minutes duration. Short Television Documentaries should be on present social issue, a problem or a character and less than 10 minutes duration. For the section of 'Creating visuals for Hymns', a new or old hymns should be handed over with two DVDs.
Rev. Fr. Aloysius Peiries, Rev. Fr. Ernest Poruthota, Rev. Fr. Sathyawai, veteran filmmakers Andrew Jayamanna and Dharmasiri Bandaranayake and Parakrama Niriella, K. Rutnam and internationally acclaimed actress Nita Fernando comprise the advisory panel for the festival.
The deadline for the festival is October 31 and further details could be available from the following addresses 'Piyawara' Information Centre, No. 58, Ridee Mawatha, Kalamulla, Kalutara or 'Vinena' Media and Arts Foundation, 496/B, Daluwakotuwa, Kochchikade or by calling 0725746210, 0718001840, 0714806035, 034-5681960 or 0714334990.