Crunchy and crispy, Tempura is a very popular food in Japan, as well as one of the best known around the world which was introduced by the Portuguese traders in the 16th century and since then, the Japanese have transformed it into something uniquely their own using creativity.
Good Tempura, iiiiiiii is a dish of seafood or vegetables that have been battered and deep fried. While shrimp continues to be the dominant ingredient, a large number of vegetables including broccoli, okra, eggplant, squash, mushroom and sweet potato are now quite common. Inspired fine Japanese cuisine in Colombo, Nihonbashi's main restaurant serves a variety of dishes such as Ika Ten [soft and not rubbery premium squid tempura], Agedashi Tofu [deep fried tofu with tentsyu and bonito flakes], Ebi Ten [black tiger prawn tempura], Yasai (vegetable) tempura, Kaki Age tempura [vegetable julienne batter fried in the tempura pan in circular clumps which is crunchy and enjoyed with lime salt]. What's more, at Nihonbashi tempura lovers can even find crispy Karapincha and Gotukola tempura bringing a truly Sri Lankan touch for world famous batter fried dishes.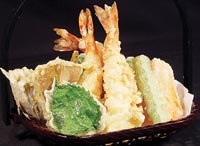 Cooked bits of tempura are either eaten with dipping sauce [tensui] or used to assemble other dishes and is commonly served with grated daikon and eaten hot-hot immediately after frying. Tempura Mori Awase is such an assortment of seafood and vegetables available at Nihonbashi.
Tempura is also used in combination with other Japanese food. Nihonbashi serves tempura over soba (buckwheat noodles) known as tempura soba or tensoba. You can even get it served as a donburi dish where tempura shrimp and vegetables are served over steamed rice in a bowl (tendon) and on top of udon noodles (Tempura Udon).
Customers can even find non traditional and fusion uses of tempura at the Tempura Bar at Nihonbashi Hilton Colombo Residence outlet where, although an unusual dish, Tempura Ice-cream have gained popularity among everyone who tries out.
It should be remembered that the quality of the Tempura depends on the quality of the ingredients, thickness and temperature of the batter, the temperature of the oil, frying time and especially the length of time from the time it is served to when it is consumed! Tempura after frying has a life span of 10 seconds to 45 seconds and due to this reason Tempura restaurants in Japan have counters where the frying takes place in front of the guest. In a similar manner, Nihonbashi Tempura Bar can be found at the Hilton Colombo Residence giving Sri Lanka better tempura.
Don't forget that whenever you are in a mood for something with a difference yet tasty, Tempura can be an ideal dish so why not drop into Nihonbashi's main restaurant at No.11, Galle Face Terrace or visit Nihonbashi Tempura Bar at the Hilton Colombo Residence where the chef prepares fresh tempura right in front of you.
Reservations/ inquiries are just a call away on 011-2323847.