Web design studio WELOVEIT launched Sri Lanka's first-ever online designer portal TheFashionCircle at the fashion show Elegance2010 at the Galadari Hotel recently.
The portal offers the facility for registered users to showcase their portfolios online be it collections of designer wear, portfolios of fashion shoots, images of hair shows/competitions, ramp and glamour shoots.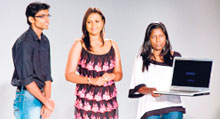 www.thefashioncircle.com launched by WELOVEIT Studio's Dilakshan Dariju, Chief Design Officer and Zsaid Image's Rozanne Diasz Leanage
TheFashionCircle is for fashion professionals to cohesively project their work and capability as Sri Lankans to a global audience.
This is done with an easy-to-navigate site structure. WELOVEIT Studio representative Rozanne Jagoda Operations Manager, said the portal brings together all fashion professionals - namely fashion designers, hair and makeup artists, models, choreographers and fashion photographers on one platform. "We have many talented people just waiting to be discovered and absorbed into the fashion industry," she said.
Sub sections provide interesting material. 'Top Steels' features the latest fashion trends, 'Ask a Designer' has a Q & A session with a featured designer per month and 'Designer Labels' is a section for fashion designers to showcase their creations.
The portal dedicates a page for fashion shows, interviews with fashion icons and comes with its own blog titled 'Inner Circle'. It will, in the months to come, offer the facility for fashion designers to sell their collections online.