Nigel Forbes and Asfar Deen have written a most interesting and informative article on "The little-known Baobab", and of their expedition to see a specimen of the baobab growing in Gangewadiya, near the southern boundary of the Wilpattu National Park. The article provided little-known facts about this unique tree's existence in Sri Lanka.
Not many would know that two baobab trees were planted in relatively recent times, in the east-central part of the country. Ranjith Jayasinghe was an exemplary wildlife officer, who had a long career with the Department of Wildlife Conservation.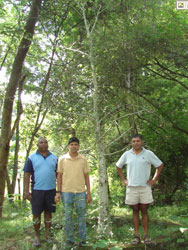 The Ulhitiya baobab tree with the ring surrounding it
At the time of his retirement 10 years ago, he was Warden of the Maduru Oya National Park. In the early 1980s, when the Maduru Oya area was being developed under the Mahaweli Project, Mr. Jayasinghe was the Ranger at Ulhitiya, where he did his bit to help mark out for conservation areas with vestiges of ancient undisturbed natural habitat.
During his time at Ulhitiya, Mr. Jayasinghe was sent to southern Africa for an intensive training in wilderness protection. During his stay there, he collected a few baobab seeds. He not only collected the seeds but discovered the secret behind the germination of the baobab seed.
Apparently, the baobab seed germinates only when subject to intense heat, such as caused by a forest fire, and then to the moisture of the first rains that follow.
By simulating these two natural conditions, Mr. Jayasinghe succeeded in causing two of the baobab seeds he had brought back with him to germinate.
He planted one of the seedlings somewhere inside the Maduru Oya National Park, and the other just outside the Ulhitiya Ranger's Office. The Ulhitiya baobab has survived, and is easily accessed by visitors. The fate of the Maduru Oya baobab is unknown. As far as I know, there have been no recorded sightings of this tree.
Young baobab trees do not show the unique characteristics of the aged baobab, and can easily be mistaken for just another tree. Fortunately, the Ulhitiya tree can be identified by a stone ring that Mr. Jayasinghe built around it.
The premises of the Ulhitiya Ranger's Office is covered with thick undergrowth, and the stone ring is not easily visible. It would be a good idea to put up a permanent marker near the tree with a sign or inscription describing the tree and its significance. The marker would also recognise Mr. Jayasinghe's contribution to our natural history.
Lalith Seneviratne, Via e-mail