It is said that the Sinhala race began with the arrival of Vijaya to our shores. Vijaya used Kuveni to get a foothold in the country and seize power. Once he had achieved that, he dumped Kuveni. The queen then went back to her clan, only to be put to death for the crime of betraying the country to Vijaya. It is said that in her dying moments, Kuveni cursed the Sinhala race. It could be said that Sri Lankan ingratitude began with Vijaya.
The Portuguese, the Dutch and the British we able to successively colonise us because of our lack of unity, our talent for intrigue, and our ingratitude. British soldiers took control of the Kandyan Kingdom in 1815. The King went into hiding. According to history, a section of the King's army, along with some villagers, seized the King, dressed him in rags, tied him up, dragged him along the ground, and handed him over to the British. Before taking him captive, the British troops untied the King, gave him decent clothing, and treated him with the dignity befitting a King.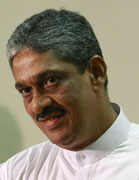 War hero, General Sarath Fonseka
Did not our own countrymen assist the Liberation Tigers of Tamil Eelam, the LTTE, to assassinate our leaders, including President Ranasinghe Premadasa, Lakshman Kadirgamar and others; the attempted assassination of President Chandrika Kumaratunga; help lay plans to assassinate our present President Mahinda Rajapaksa, kill innocent civilians and raze buildings?
When President Premadasa was killed by the LTTE, some people lit firecrackers. How shocking and shameless, and what ingratitude. When President Chandrika Kumaratunga was in power, persons wielding political power said they were prepared to die for her, while others grovelled at her feet.
These same persons now shun her. What ingratitude.I saw a demonstration of ingratitude during an official visit to a post office. The staff were getting ready to receive a government party candidate at the upcoming election. Even the soft drinks were chosen to match the party colour. Came the elections, the government party lost.
I visited this post office after the election, and saw the same staff members about to unveil a photograph of the new Prime Minister. The photograph of the outgoing Prime Minister, which had previously even been garlanded, had been removed.
I advised the head of the office to put back the photograph of the outgoing lady Prime Minister, before the photograph of the new Prime Minister was hung. I called on the Member of Parliament for the area, who was to be the chief guest at the ceremony, and explained the situation. He stayed out of the ceremony. On a subsequent visit to that office, I saw both photographs on the wall.
I heard that the photograph of the outgoing Prime Minister had been dashed on the ground by the same people who had earlier put it up with reverence. That is ingratitude, exhibited by time servers.
War hero, General Sarath Fonseka, is facing the same from the Army. One is reminded of Shakespeare's words, "Blow, blow thou winter wind, thou art not so unkind as man's ingratitude." And of George Bernard Shaw, who said, "The more I see of men, the more I love dogs."
Upali S. Jayasekara, Colombo 4