There's the Rock Chick, the Party Diva, the Eco Chick all making their debut at Dilly's on Saturday, August 28 and behind them some excited young designers quite naturally elated at their launch into the big-time.
These are the new faces of Dilly's, the quality label that has quietly stamped its presence on the fashion scene. Presiding over it all with no less enthusiasm is the name behind Dilly's- the reticent Dilani Wijeyesekera, that rarity in the fashion scene, a designer who's famously publicity shy. Yet, this is an occasion she wants to celebrate. After years of spearheading numerous collections for Dilly's from the feminine and elegant Moods collection to the more flamboyant Voyages collections, Dilani took a break slipping off to immerse herself in her other loves – art and pottery. "I found that it was not much different to the folds of cloth I had got so accustomed to for the past 25 years. It was an act of creation, be it cloth or clay. It had the same trials and tribulations, the same thrill of seeing the end result," she says.
The rocking look
But it's hard to set aside what's been your passion for so many years, so she's back, and with her, a whole stable of fresh young talent, young designers she's personally chosen to carry the Dilly label forward.
Sitting relaxed in the coffee shop at Dilly's signature Bullers' Road store, she talks of how delighted she is at the new direction her fashion label is taking. Known for her classic lines and quality garments, designing for Dilani has never been about just sketching an idea that came to her mind.
Each collection has had an inspiration, a theme that she has meticulously researched and whether it's a tiny motif, hand embroidered, an array of painted buttons or just the combination of colours, her customers could always be sure that there was a great deal of thought and hours of care that had gone into her creations, so subtly that they may in most instances, have been overlooked. For Dilani, it is the feeling of wanting to give her clientele intelligent design that has fuelled her creativity and given meaning to her work all through the years.
Now confessing to the contentment that maturity brings, there is also the increasing sense of wanting to share her experience with others. She envisages the store as a kind of creative hub, where not just designers, but artistic people of all inclinations could find a window. "My dream would be to have as many fashion and creative students pass through the doors of Dilly's. I'd like to share all the knowledge gathered about this business…make Dilly's a stepping stone into a bright future for others," she says.With the help of another professional Hayley Evans, a vivacious young Britisher who having studied fashion marketing and garnered experience in New York and with Marks and Spencer in Britain, before deciding to venture further afield to Sri Lanka, they have dreamed up Dilly's new direction- the new lines that will be the fresh young face of the label and brought in some talented young designers to create the signature designs that will characterize each line.
'Which Dilly Girl are you?' is their tag line and this will, no doubt, strike a chord with the young women they are hoping to reach. It has, without a doubt, grabbed the imagination of the young designers and with Dilani guiding and Hayley advising, their dramatic designs have been gently coaxed into practically wearable and yet distinctly individual looks.
"It has to work, it has to be sellable," says Hayley pragmatically as the team clusters around, all eager to share their stories. And there's no doubt, they are an interesting group. Declaring that the Party Diva was an automatic choice for her, Irangi de Alwis says she seldom found the kind of clothes she wanted to wear for a night out. The 22-year-old, a diploma holder from the Academy of Design (AoD) has chosen animal prints for that extra zip.
Ever stopped to admire the shop windows at Dilly, innovative and whimsical? Kelaniya University graduate Sithara Sewwandi is the artist behind them and after three years of graphic design she's over the moon to be designing the Eco Chick collection in lightweight cotton and linen.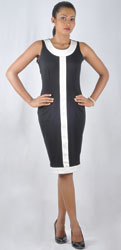 The smart working girl
The soft-spoken young woman is also the brains behind the new comic strips that Dilly's will unveil with the collection, each telling the stories of the Dilly girls and their day-to-day lives.
Ludmilla Bopitiya, has chosen the sophistication of black and white for the new office wear line that had already its niche at Dilly's. She's added tweed to the cottons and satin and laughingly says she would buy every piece if she could. The 23-year-old also from AoD is emphatic that she loves the freedom to experiment that the Dilly's experience is giving her.
Fine stitching is something she learnt from her mother and Mathusha Luxmekanthan's ability has been recognized by her colleagues. Also from AoD, she 's designed a line of white shirts, a staple in every working woman's wardrobe.
They're very fitted and it's a tailored look she's aspiring to, she says, also revealing that her dream is to open her own boutique one day.
Similarly Shashi Rathnayake has a rare skill she picked up from her grandmother. Having knitted since she was a child, her collection for her graduation show at AoD was an entirely handknitted range of garments. It's a stretch to see this demure 24-year-old as a Rock Chick but she is all into the music of Lady Gaga and this collection captures that edgy look of street chic.
Also contributing to the collection is make-up artist Nadine Wijewardane, who's spent much of her growing up years in Australia and trained in make-up there. She loves the drama of theatre where she can let her imagination run free but also is known for creating a look of subtle glamour.
It's a team that is determined to reinvent the Dilly's look to be the trendsetters in the market.