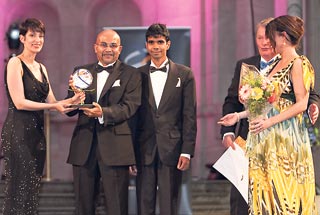 Picture shows Dian Gomes receiving the award from Charlotte Masiello-Riome, Communications Expert Consultant to UN FAO and member of the Jury at the Globe Award Gala Dinner at Nordiska Museet in Stockholm Sweden. Also in the picture are Vidhura Ralapanawe Lars-Olle Larsson, Partner and Head of Sustainability Business of PriceWaterhouse Coopers and the overall Jury Chair of Globe Award, and Martina Nee, Director, Globe Award.
MAS Intimates Thurulie, the eco-manufacturing facility of MAS Holdings was feted with the coveted Globe Award for Sustainability Innovation for 2010 at a ceremony held on April 29 in Stockholm.
Dian Gomes, Managing Director - MAS Intimates and Group Director - MAS Holdings, together with Vidhura Ralapanawe, Manager for Sustainability and Communications - MAS Intimates accepted the award on the company's behalf.
The jury, consisting of a group of eminent global personalities selected MAS Intimates Thurulie as a prime example of innovation that converges sustainable development with successful business ethics, the company said in a statement.
MAS Intimates Thurulie is the world's first purpose-built eco-manufacturing plant for apparel. British retail giant Marks & Spencer teamed with MAS Intimates to design and construct a model green factory for apparel as part of Plan A, a company-wide sustainability programme.