The Sri Lanka Air Force, with the state's authorisation, are carrying out mining and quarrying operations at a site within the High Security Zone (HSZ) in Keerimalai, in Jaffna.
The site is the former premises of the Cement Corporation/Lanka Cement Ltd, which was shut down in 1990 because of the conflict. However, both the Geological Survey and Mines Bureau (GSMB) and the Central Environment Authority (CEA) say permits have not been obtained from either authority for any mining activity to be conducted in this area.
"Any permit issued by the Central Environment Authority must be renewed annually or every three years, depending on the degree of pollution caused by the work in question. "There are two categories, A and B. High pollutant companies fall under the A category, while the lesser pollutants fall under B," said CE director general, Pasan Gunasena.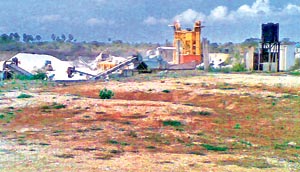 The crushing plant at Keerimalai used to produce the raw material for construction
"To do any quarrying or mining, you have to obtain an Environmental Protection Licence (EPL) from the CEA, and a quarry permit from the GSMB, which has CEA authorisation to issue Environmental Impact Assessments (EIA), should there be a need for one.
"Not all quarries require an EIA, only those coming under 'area sensitivity' criteria. "In addition, they need an Explosives Permit from the Ministry of Defence, as well as a permit from the land owner land, such as the Ministry of Forestry if its is forest land, or the DS office if it is crown land."
According to P. Wimalanandan, offficer in charge of Jaffna Operations, Lanka Cement Ltd, the quarry was used by the Cement Corporation and later by Lanka Cement until June 15, 1990, when it was shut down.
"The Sri Lanka Air Force has been authorised by the Defence Ministry to use the Keerimalai quarry to get material for military installations and Palali Airport restoration," said SLAF spokesperson, Group Captain Janaka Nanayakkara.
Sri Lanka Navy spokesperson Captain Athula Senarath said: "The Sri Lanka Navy has no involvement in this quarry and does not carry out any mining activity here. The quarry belonged to the Cement Corporation before the war."
Military spokesman Prasad Samarasinghe said the Army was not involved in the project. Mrs. Vijitha Sathiyakumar, assistant director, CEA Northern Provincial Office, Jaffna, said:
"A few military personnel visited our office recently requesting site clearance to carry out mining activity, and I advised them to apply to the GSMB for a licence. However, they have not applied for an EPL from our office as yet."
According to Anil Pieris, Deputy Director Mines, GSMB, no one has as yet applied for a mining licence, or requested for a quarry permit for any mining project to be carried out in Keerimalai. This was confirmed by GSMB Regional Office in Jaffna.
"I have requested all parties interested in carrying out quarrying and mining activity in the area to obtain the necessary permits from the GSMB, prior to commencing work, as we need to preserve the environment and our quarries as far as possible," said District Secretary (GA), Jaffna, K. Ganesh.
S. Moraimada, general manager of V. V. Karunaratne & Sons, who have been commissioned to renovate the Palali Airport Runway, said:
"We have been commissioned by the Sri Lanka Air Force and funded by the Ministry of Defence to renovate the Palali Airport Runway, for which we run an aggregate crushing plant in Keerimalai to produce the raw material we require for construction. As it is a state project, I presume all the necessary permits are in order, especially as the quarry was in operation before our company's arrival in November, 2009," he said.