Following the April 27 eviction of street hawkers from Colombo and its suburbs, authorities have held discussions with representatives and come up with an alternative location for the vendors of the Colombo Fort area. A majority are happy with the outcome of the talks while a few are not.
Chief City Administrator and Special Commissioner of the Colombo Municipal Council (CMC) Omar Kamil told the Sunday Times on Friday, a new market place is being constructed between Fifth Cross Street and Gasworks Street, Colombo, better known as Bodhiraja Mawatha, with space for about 750 vendors.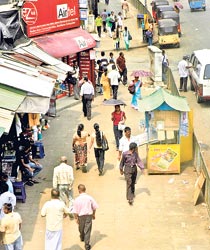 Pettah: Padestrians walk on the pavements cleared of vendors selling their wares
"A majority of the hawkers along Olcott Mawatha and Pettah area have always preferred to be within the vicinity of Pettah. President Mahinda Rajapaksa has suggested and allocated an area between Fifth Cross Street and Gasworks Street called Bodhirajha Mawatha for this purpose.
This is an abandoned area and we are clearing it up now," Mr. Kamil said.Representatives from an islandwide group of street vendors, the Federation of Self-Employees, including its chief Mahinda Kahandagama, met President Rajapaksa on May 4. They had been assured of a speedy relocation process.
"The president said that we must be given an alternative location. One of the suggestions was to build a bridge along Olcott Mawatha where elevated shops could be set up. We said we would co-operate with making the city look beautiful if we were given a suitable alternative.
The president promised to give Rs. 2000 each for 10 days till the project is completed," vice president of the federation, M. K. J. Anthony told The Sunday Times.
However, according to Mr. Kamil, the proposal to construct a bridge, similar to the one in Maradana, might not get the green light and the Bodhiraja Mawatha project seemed much more feasible.
Mr. Anthony is optimistic that after the completion of the Bodhiraja Mawatha project, the remaining vendors would be given an alternative location too.
Not everyone shares his enthusiasm. Many hawkers could be seen along Olcott Mawatha last week going about their business, but in a far more discrete manner. Most of them were selling their wares pacing on the pavement carrying their goods, while others had set up shop on the verandahs of established business houses. One businessman who was selling VCDs on a byroad told the Sunday Times they were ready to pack up and run if the police suddenly turned up.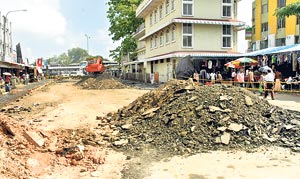 The alternative site at Bodhiraja Mawatha.
A few vendors near the Bodhiraja Mawatha who were evicted in a similar manner about a year ago expressed outrage that they still haven't been given an alternative.
One of these vendors, a handicapped young man, V. L. Sanjeewa accused the Federation of Self-Employees of not allocating them the area that the Federation had reportedly received from the government.
"I have two little girls. I don't have an income. I can't even feed them properly now," he said. Mr. Anthony, however, brushed aside these allegations saying they were the words of a selfish few.
"There are selfish people everywhere. This federation gives whatever benefit it gains to all its members. Officials of this federation don't receive a salary.
The membership fee is just one rupee. None of those people who are shouting hoarse today were there when we fought for their rights," he charged.
Long-time Longden Place vendors told to go
Rugby and soccer fans turning into Malalasekera Mawatha (former Longden Place), Colombo 7, will be disappointed to find most of the familiar roadside boutiques – places they would stop by for a thambili, a cup of tea, or a cigarette – missing when they head to the CR & FC grounds this weekend for a match, and for the rest of the sports season.
It will not be the sports fans only who will miss the vendors: office workers, passers-by, three-wheel drivers and others stop by throughout the day and well into the night for refreshment at these boutiques.
But their disappointment is nothing compared to the state of near despair the vendors are in, after the Cinnamon Gardens Police ordered them this week to dismantle their boutiques and leave. "We have nowhere to go," they chorused.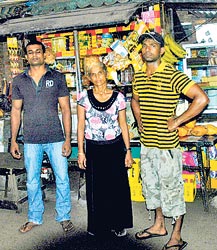 Mrs. Dharmawathie and sons Susil and Thilak are sad to close shop after so many years.
Yesterday afternoon, five families were in the process of pulling down their five pavement shops, while the police looked on. "This is a shock to us," said Embilipitiya resident Mrs. Dharmawathie, 55 years, who, with her sons Susil Kumara (27) and Thilak Kumara (23), runs one of the boutiques.
"We have been here for almost 22 years. We don't know what to do.
We have not been given any offer of help to relocate or set up elsewhere." Thilak pulled out a file containing laminated documents. These included a letter, dated August 19, 2008, counter-signed by the OIC of the Cinnamon Gardens Police, certifying that Mrs. Dharmawathie was a member of the Bauddhaloka Mawatha Pavement Hawkers' Society; a letter dated October 25, 2006 from former Minister of Railways and Transport, A. H. M. Fowzie, requesting that the owner, Mrs. Dharmawathie, be allowed to maintain her shop, and monthly tax receipts, or "cart rent", for Rs. 575 a month, covering the past nine years,
"All we want is a solution to our problem, an alternate place we can go to without the authorities pushing us out," said Thilak.
"Is it fair to suddenly make us remove our shop, after we've been here for so many years, and not even give us an alternative place to go to?" Mrs. Dharmawathie asked. "We have a family of seven who depend on this shop for our livelihood."
Among the other four families that were removing their structures were owners K. Sunethra Perera, H. P. Padmawathi, and Jeevananda Gunatilleke. All have been presences on Malalasekera Mawatha for at least 20 years. Mr Gunatilleke set up his shop 30 years ago, he says, "long before many of the residents here came to this neighbourhood."
"We too are Colombo 7 residents," said Mrs. Sunethra Perera. "We are Colombo-born citizens, and we came here long before many of the people living in the big houses on this road."
Once the five vendors have removed their five pavement stalls, there will be three remaining structures abutting on the pavements along this stretch of Malalasekera Mawatha: two are boutiques that started out as temporary structures and have since evolved into semi-permanent fixtures, with brick walls, tiles and cement floors. According to the five vendors, the police have left these two boutiques alone.
Ironically, the third semi-permanent structure built on the pavement that will be allowed to stay is a brick-wall enclosure put up by the Police to serve as a police canteen. – R.S.P.