At 12.30 p.m. on Friday, Deputy Solicitor-General Kapila Waidyaratne while battling the discomforts of humid weather from inside a black cloak worn over a black suit, concluded his day's arguments at the Colombo High Court, requesting Judge Kumudini Wickremasinghe for another date to examine witnesses.
Waidyaratne is primary prosecutor for one of Sri Lanka's most high-profile court cases in recent times: the murder of former Foreign Minister Lakshman Kadirgamar on August 12, 2005.
Following investigations by the police, military intelligence, Criminal Investigation Department (CID) and other agencies, the case was first taken up for hearing in court on October 12, 2009. State versus V Prabhakaran and others was how the case had been listed since then. Former LTTE chief Velupillai Prabhakaran and his head of intelligence Pottu Amman alias S Shivsankar were at the top of the list of six accused by the State for having conspired and killed Kadirgamar.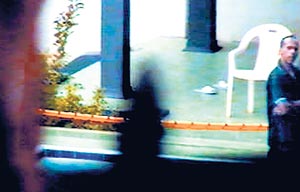 The sniper's view of the area near Kadirgamar's swimming pool taken from the bathroom window of the neighbour's house
(file pic)
Although the LTTE had denied its hand in Kadirgamar's assassination, the Government of Sri Lanka believed otherwise. Kadirgamar – a Tamil of Jaffna origin - was a fierce critic of the Tamil Tigers. The Government of India had accused Prabhakaran and Pottu of conspiring and killing former Indian Prime Minister Rajiv Gandhi on May 2, 1991 in Tamil Nadu. The LTTE later regretted killing Rajiv, calling his assassination a "historical tragedy."
Two others accomplices – also probably from the LTTE – Charles alias Charles Master and Komadi Mani Mekala had been listed as accused numbers three and four in Kadirgamar's murder case. However, almost two weeks ago, the Government of Sri Lanka through its lawyers Waidyaratne and Senior State Counsel Shanil Kularatne had told the court that the first four accused in the Kadirgamar case were dead, thereby reducing their relevance as prime accused.
Two men – a gardener called Muttiah Sahadevan who worked at one of Kadirgamar's neighbour's house and Isitor Arokyanadan a.k.a Babu who drove a three-wheeler in the vicinity of Buller's Lane in Colombo 7 where Kadirgamar lived – had been arrested almost immediately after Kadirgamar's death. In Police custody since August 2005 and now as surviving accused, the two men are being tried under Section III of the Prevention of Terrorism Act (PTA), 1979.
Sahadevan and Babu have been accused of conspiring with the LTTE to eliminate Kadirgamar the then Foreign Minister and if found guilty, each could face long years in jail. Section III of the PTA says that any person who does an act preparatory to the commission of an offence or abets, conspires, attempts, exhorts or incites the commission of an offence or causes the death of a person, or commits any attack upon any person (also in contravention of the penal code). would be guilty, under this law.
Prison terms could range from seven to 20 years. The provision for life behind bars also exists in this section of the PTA, depending on the severity of the crime. Last Friday, inside a sparsely inhabited court room, watched by police personnel, Sahadevan and Babu sat in the box meant for the accused with their blank eyes staring into nothing. Their family members sat a few steps away on benches looking equally hopeless while defence lawyers A Vinagayamurthy and Kewi Thavarasan intervened every once in a while during Waidyaratne's arguments.
Since October 12 last year, seven court hearings have taken place during which three witnesses from the police and Special Task Force (STF) have been examined. During last Friday's hearing, Waidyaratne interrogated SSP Ajith Wickremesekera who at the time of Kadirgamar's murder was with the STF and was among the first officers to visit the scene of crime (Kadirgamar's residence no. 36, Buller's Lane). SSP Wickremesekera was probably the first police officer to also visit 42, Buller's Lane.
At around 10.30 p.m. on August 12, 2005, as Kadirgamar stepped out of his swimming pool and went to look at his garden in the backyard, wearing slippers, several gunshots were fired at him from the window of a bathroom located on the top floor of house number 42 on Buller's Lane. This house – next to Kadirgamar's – was allegedly used by his killers to execute their plan. This is also the house in which accused Sahadevan used to tend to the gardens. Komadi is said to have been the LTTE handler for Sahadevan and Babu.
SSP Wickremesekera who had joined the police force in 1976 was asked by Waidyaratne to identify exhibits in the court room last Friday, which he did. The exhibits included a blue nylon rope, a tripod stand on which the sniper rifle/gun used to fire at Kadirgamar was mounted, empty bullet cases, photographs of Kadirgamar's house and the neighbouring house. During previous hearings of the case on March 4 and 5 this year, SSP Wickremesekera had been examined by the prosecution.
During that inquest, SSP Wickremesekera is said to have confirmed to the court that the bullets had indeed been fired through the window of the bathroom at 42, Buller's Lane. Recalling the events of the evening of August 12 five years ago, SSP Wickremesekera has told the court that he was informed at around 11 p.m., over the telephone, by the then DIG Police, about Kadirgamar's assassination. He further said that an STF team was soon dispatched to Kadirgamar's house.
SSP Wickremesekera had also told the court in the earlier hearings that when he had knocked on the main door of house number 42 on Buller's Lane after Kadirgamar had fallen to the bullets, Lakshman Thalayasingam, the then house owner who passed away in 2006 (due to natural causes), had expressed his ignorance about the incident, saying that he was asleep. Thalayasingam told investigators (back in 2005) that he and his wife used only the ground floor of their house and that they lacked knowledge about activities on the top floor by persons who planned and killed Kadirgamar.
During another previous hearing of the case, Abeyratne Rajapaksa an officer with the crimes division of the police had been asked if the police had tried to even arrest Prabhakaran, Pottu, Komadi and Charles Master.
Police inspector Rajapaksa had then told the court that warrants had been issued for the arrests of Komadi and Charles Master in Mullaitivu through the District Secretariat but they could not be tracked down. The case is scheduled to be heard next on May 17 and May 26.