In a move that would enhance Sri Lanka's image in the Internet governance arena, a Sri Lankan based Attorney, Jayantha Fernando, has been unanimously elected as Vice Chairman of the ICANN Government Advisory Committee (GAC).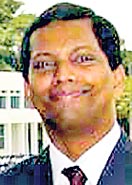 Jayantha Fernando
The other two elected vice Chairs are Diagne Maimouna Diop of Senegal and Heather Dryden of Canada. The election became effective at the recently concluded Nairobi meeting.
Mr Fernando's name was proposed by the ICANN-GAC Chair, Ambassador Janis Karklins. Mr. Fernando had served in the ICANN Nominating Committee (including one term as Vice Chair), tasked with the selection of board directors and all senior positions within ICANN, becoming the first Sri Lankan to hold a leadership position within the internet regulatory body.
Mr. Fernando holds an LLM in IT & Communications Law from the University of London and works as Director/ Legal Advisor of ICT Agency of Sri Lanka. He played a key role in the formulation of many IT laws in Sri Lanka, more specifically the Electronic Transactions Act No. 19 of 2006 & the Computer Crimes Act of 2007 and has over 14 years international experience in ICT Law.