A cat cheerfully grins at us from across the room, while a bride adjusts her veil. Meanwhile, a witch walks past us while a girl garbed in green runs across the room.
These are a few of the characters you can expect to see at "Strange Tales" – five amazing plays directed by Sashi Mendis.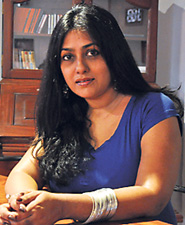 Sashi Mendis. Pic by Gemunu Wellage
The production will feature adaptations of five children's plays by Ted Hughes and promises to be a production for the entire family. "Given the nature of the playwright, the plays are very thought provoking and entertaining and gives total acting potential for the students to stage it in different ways" explains Director, Sashi Mendis.
'Sean, the Devil and the Cat' relates how Sean ventures into the dark wood and encounters the devil and his cat and is a fantasy play based on real life themes. It is a play of suspense but is laced with humour and introduces characters such as Mr. Poppopocolis, the rich millionaire whose daughter thinks she is cat.
The Pig Organ' deals with a King who might just turn into a pig while 'The Meteor' is about the predictions of a mad scientist whose instructions are staunchly followed by his disciples Mr. Vongongtop and Mr. Jitterwit. 'Beauty and the Beast', contrary to what you think, is not about the beloved fairytale but is instead a mysterious take on a beautiful girl who runs away or is perhaps kidnapped by a bear.
The play 'Orpheus' is based on the Greek myth and is a poetic drama which will be presented with choreographed movement and music.
"We've been innovative and adapted them," voices Sashi, "It's a challenge to do plays of this nature. They're not run of the mill children's plays. They're fairly sophisticated." 'Strange Tales' is presented by students between 10 – 15 years, most of whom have attended drama classes with Sashi over the past few years.
Having practiced for the past 6 months, the final production is the result of much discussion, improvisation and exploration of different ideas on the part of the students along with the perfection of characterization, skills of voice, movement and expressions. 'Strange Tales' will be staged on March 13 and 14 at the Punchi Theatre at 6.30 p.m. Tickets are available at the Punchi Theatre.