Abbasali Rozais has spent 21 years cultivating a wily sense of humour. The young actor made his directorial debut with 'Clueless' in 2005, a play he also wrote and starred in. For an encore, he's come up with 'Presidents, Promiscuity and Pineapples.'
The title neatly encapsulates the plot of a play that has promiscuous would-be presidents drinking copious amounts of pineapple juice…but these are only the first layers in an intricate plot that features a mysterious death, star crossed lovers, a rebellious son, and most promising of all, a journalist. Having gained confidence since 'Clueless' – enough to have Indu Dharmasena (his "guru" in all matters theatrical) take one of the leading roles in this production as Ajith Kebethigollawa. Opposite Ajith is Upali Wijeratne (Dilshan Perera). The two men, once good friends, attended school and even college together.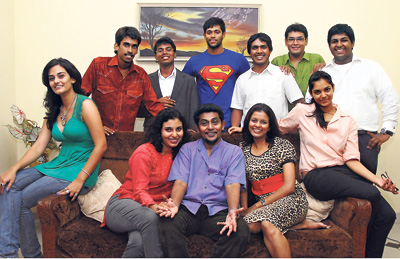 But now fate pits them against each other in a struggle for the highest office in the land – who will be the next President of Sri Lanka? "Campaigning is officially over and opinion polls put Ajith in the lead with his slogan, 'Everything to give, nothing to gain!'" says Abbasali, explaining that with mere days to go till the people go to the polls, Ajith's wife Ramani (Sanwada Dharmasena) must leave to attend a family wedding. Driving her to the airport is Nihal Godamunne (Abbasali Rosaiz). Ajith, of course, seizes the opportunity to arrange a romantic rendezvous with his mistress, Patricia Perera played by Krishni Panditharatne. In the meantime, Ajith's manservant Piyadasa (Fazry Ibrahim) is making endless rounds of pineapple juice out of the fruit stock freshly delivered from Ajith's pineapple estate.
But the best laid plans turn to near farcical chaos in this dramatist's hands. Eager to begin to his romantic interlude with PP (as Patricia is affectionately known), Ajith must contend with his son's (played by Steffin Gomez) desire to marry his opponent's daughter and with the amazing appearance of a near hysterical Upali himself. But Upali never has the chance to explain himself and things go from good to horrible when Upali suffers an attack that, to all appearances, leaves Ajith's one time friend dead. A horr fied Ajith must now deal with a potential witness to the entire fracas, the journalist Dick Babcock (Chamendra Amarasinghe) – and his troubles have only just begun. Ramani is on her way home.
The play is staged on one set and consists of one scene in two acts. Despite his experienced cast, one might assume it would be difficult to juggle the roles of actor, playwright and director. Abbas says he finds easier to have his ideas make a succesful transition from page to stage, but admits it's difficult to remain objective. "So when directing I try to take myself away from the fact that I did write it," he says.
The playwright declares himself pleased with the end result and in particular with his leading man "Presidents, Promiscuity and Pineapples!" is scheduled to be staged at the Lionel Wendt Theatre from March 12- 14, from 7.30 pm onwards. Tickets are now available at the Lionel Wendt .