KT Brown designer Kanchana Talapawila has been selected to show at the prestigious Miami Fashion Week scheduled for March 18-23.
KT Brown received a standing ovation when she presented her collection as the finale of Day 1 at HSBC Colombo Fashion Week 2010. The rewards for Kanchana's strong showing have now arrived thanks to the Colombo Fashion Week's MOU with Miami Fashion Week to provide a place for a Sri Lankan designer to show at this prestigious event.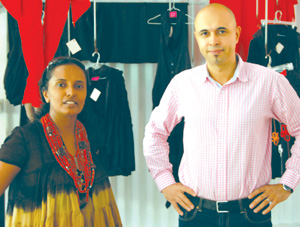 Kanchana of KT Brown and Ajai V. Singh
This was part of the reciprocal arrangement that was signed last year to take Sri Lankan designers to the international stage. Miami International Fashion Week is one of the most important fashion weeks in the US, which is attended by over 10,000 people, buyers, media and designers from around the world.
"I am glad that I had this platform. We have had so many talented designers who never had this opportunity. I wish to thank Ajai and Colombo Fashion Week for all the effort put in over the years and creating an annual event for Sri Lankan designers to showcase their work. I am happy that this will be an encouragement for the traditional weavers I work with and to the local segment of the apparel industry hoping to find new markets," said an elated Kanchana.
"Kanchana deserves this, she had one of the strongest collections at HSBC CFW and she rightfully got picked up to show in Miami. All I can say is seven years of hard work to take Sri Lankan designers to international frontiers is finally beginning to show results. Today it's Kanchana, hopefully soon there will be many more," said a proud Ajai V. Singh, President, HSBC Colombo Fashion Week.