The tailspin of the headphone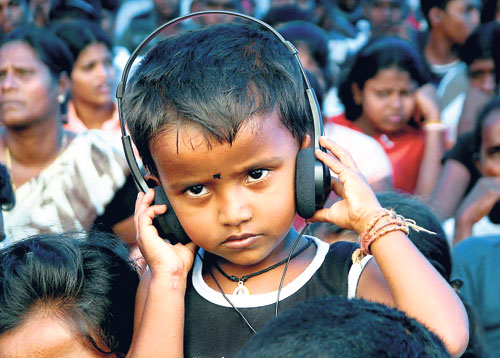 Thousands of headphones were given to people at an election rally addressed by President Mahinda Rajapaksa in Vavuniya yesterday. The President spoke in Sinhala and even this child is seen listening to the Tamil translation via the headphone. Pic by Priyantha Hewage
A Japanese gourmet adventure

I have a friend who insists that the first mouthful of sashimi - touched with wasabi, soaked in soy sauce - is the taste of happiness. Considering that this is raw fish we're talking about, not everyone will go that far. Still, in the past few years, Japanese cuisine has gained a faithful following in Sri Lanka.
Opportunity costs of elections as bad as direct costs

Elections add up to billions of rupees in direct costs, but also run up massive, uncalculated hidden costs that eat into the country's future economic growth, say a group of experts. Legal experts maintain that elections are not just a routine part of the democratic process but are also a human right of the people of Sri Lanka.
Simmering separatism in India's northeast

Our northeast remains disturbed, although not like Pakistan's northwest. The fires burning in the Indian region are mostly political. They are nowhere a conflagration in the name of religion as is the case in Pakistan.
Become a young Project Manager after A/Ls

Project Management Solutions (PMS), the leader in project management training in Sri Lanka, now offers a project management training programme for young project mangers who wish to enhance their skills in Project Management. This 10-week programme titled "Foundation in Project Management" is approved by Project Management Institute (PMI) USA.
Dilshan likely to play against India today

Injured Lankan opening batsman is likely to return to the side for today's return game against India in the triangular series game at the Played at Shere Bangla National Stadium, Mirpur, Bangladesh.
Jaffna HSZs to be abolished today

President Mahinda Rajapaksa will today announce that High Security Zones in the Jaffna peninsula will be dismantled. They will be replaced by buffer zones extending 300 metres outwards from military installations.

Health Ministry in bloody money deal

Human plasma, extracted from blood donated to the National Blood Transfusion Service during campaigns to collect blood for security force personnel and for Thalassemia patients, has been exported to a private company in India – with a health union accusing the ministry of indulging in a bloody betrayal.
Real democracy the key issue
With the chief contenders for the country's most coveted job persisting with their mud-slinging campaigns, it is increasingly apparent that the choice for the people is - as is said pithily in the vernacular -- between a partner who has a cough and a partner who has a cold.
Fresh weapons in political war-Political Column

For the two major contenders in the upcoming Presidential polls - Mahinda Rajapaksa and retired General Sarath Fonseka - the military defeat of Tiger guerrillas became the main platform. Both shot into greater national limelight after the victory.
Plays for the people

I hesitated for some days before I could conjure up the courage to call Parakrama Niriella, a director I have admired and respected from the day I saw Varenthu as a teenager in the Sarachchandra Open Air Theatre.
The death of the younger prince

Souza advised the prince, Jugo Bandara, to go to Goa and embrace Christianity, if he were to become the King of Kotte. The prince was happy about this suggestion and told his mother about it. She too liked the idea. So both the Prince Jugo Bandara and his mother, had a secret discussion with Souza.
MOST VIEWED ARTICLES

LATEST NEWS