Politics is like fire dance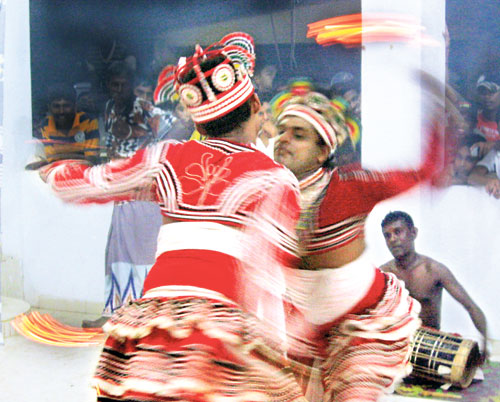 With the two main contenders for the presidential election exchanging heavy fire, this fire dance at Gothatuwa Sri Ratnasara Viharaya to herald 2010 was symbolic of the political spins in the country. Pic by J. Weerasekera
Being witty about being funny
Wendy Cope knows not one, but two cures for love. They're simple and direct – as is her poetry. An award winning English poet, Wendy's verse has been variously described as wry, insightful and laugh-out-loud funny. In her first collection, 'Making Cocoa for Kingsley Amis' (1986) she parodied the likes of T.S Eliot (who knew The Wasteland could work so well as a limerick?) and Sir Philip Sydney with great success. When a critic described her humorous approach as 'both her strength and her limitation,' she responded:
Tax returns thro' Internet

Depending on tax consultants for filing of tax returns may soon be a thing of the past, with the introduction of electronic filing or e-filing by the Inland Revenue Department this year, a first time in Sri Lanka.
Experiencing a slice of theatrical heaven
It has always been my dream to visit Africa. Growing up, what I knew about Africa was gathered from National Geographic and Discovery channels, and it was not until much later, I keyed in to the lively, original arts scene that seems part and parcel of African culture.
The expedition of destiny
Sri Lanka Cricket team manager Brendon Kuruppu contends that in spite of a youthful look, the Lankan team has enough experience and talent to do well in the up-coming tri-series against India and Bangladesh in the latter's venue.
Political storm over STF 'circular'
A Police Special Task Force'circular' or leaflet sent out in support of President Mahinda Rajapaksa ahead of the January 26 Presidential election has sparked a political explosion.
Ballot paper-buying plan bared
Covert plans by a Gampaha District politician of the ruling United People's Freedom Alliance to buy ballot papers from drug addicts, alcoholics and poverty-stricken people have been exposed, the Sunday Times learns.
Upgrade the debate
With the dawn of a New Year and the beginning of a new decade as well, it is time to reflect on the past and look to what the future may offer.
Every vote counts now -

Political Column

With just 23 days to go for the Presidential Election, the campaigns of the two main contenders - President Mahinda Rajapaksa and retired General Sarath Fonseka - are hotting up.
Protect the true Sri Lankans - our endemic species

In the 1990's, members of the Wildlife Conservation Society of Galle discovered a species of small freshwater fish in a stream in Wilpita in the Matara district. Conducting a survey recently, they couldn't find the fish Raspora Wilpita, as it was named, in the stream where it was discovered. It was later located in streams deeper in the rainforest.
The sixth Presidential election takes shape
Although the President is elected for a period of six years, under the Constitution of Sri Lanka, the incumbent President has the power to call for an election "any time after the expiration of four years from the commencement of his first term of office, by Proclamation, declare his intention of appealing to the People for a mandate to hold office, by election, for a further term."
MOST VIEWED ARTICLES

LATEST NEWS