As Kandy prepares for its grand annual pageant, the Dalada Perahera this month, plans are underway to facilitate the comfort of the majestic animals that are inextricably linked to it.
Elephants have been and always will be associated with the pageant. But as people throng the streets of Kandy, to gasp over the magnificence of these caparisoned animals, how many think of their comfort.
Invariably, during such pageants, some of the bull elephants which come from far and wide go into musth and have to be tied to trees, sometimes with iron stays.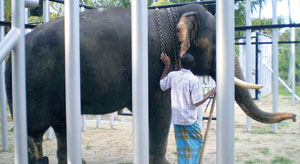 Picture shows a pen occupied by an elephant
When an offer of help with expertise in dealing with elephants in musth came from Prof. Charles Santiago of the University of Peradeniya and Brian Reed of the famous circus, 'Ringling Brothers' of the United States, Dr. Asoka Dangolle, a Senior Lecturer of the Faculty of Veterinary Medicine, University of Peradeniya, who looks after the perahera elephants, immediately thought of the pageant.
Reed was offering the university or any other organization not only their expertise but also scholarships for local students to study the work they did at the circus elephant pens in America.
Six students, funded by Ringling Brothers, are in the US conducting research on elephants, said Dr. Dangolle.
Simultaneously, he got the Dalada Maligawa authorities into the loop and put in operation a plan to set up pens for elephants in musth, without tying them up, he said, while Project Coordinator S. Rambukpotha added that Diyawadana Nilame Pradeep Nilanga Dela has demarcated an area belonging to the maligawa for the pens. The pens are spacious and the elephants' movements are not restricted as when they are tied. They are fed from outside so that they could take whatever they want and feed inside at any time. Water is provided in iron trays, while the elephants can be bathed from outside, the Sunday Times understands.
The cost of the pens was met by Ringling Brothers who are supposed to have the largest number of tame elephants in the world.
These pens most certainly will be a boon during the perahera season, preventing allegations of cruelty which could be levelled if elephants in musth are tied up restricting their movements or causing deep wounds on their legs.