We all have innate talents, but in today's fast paced, competitive world for most of us those talents remain unexplored or undiscovered. Often academics who are buried in their work, research and papers are hardly thought of as being talented in other areas.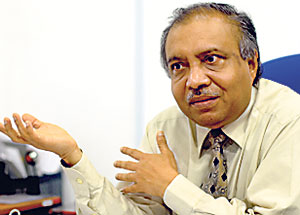 Prof. Jiffry and (below) one of his paintings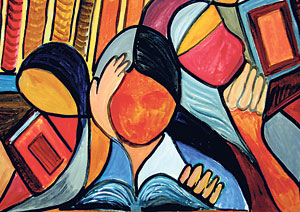 In a move to dispel that cloud of misapprehension, 'Recognizing Creativity', an exhibition of art exclusively by academics was organized by Prof. Laksiri Fernando of the National Centre for Advanced Studies (NCAS) recently.
The three academics who exhibited their work included Sudarshana Bandara, a lecturer at the Department of Fine Arts, University of Peradeniya, George Cooray, a retired Associate Professor of the University of Colombo and Prof. M.T.M. Jiffry, the present Vice Chairman of the University Grants Commission.
"Professionals aren't given the opportunity to display their talents, besides their professional qualification. These talents include writing, sports, singing and much more. By isolating themselves and immersing themselves in their work, they can become bored and consequently unhappy," says Prof.
Jiffry, explaining that this is also a good way to show their students that there is more to their professors than their academic achievements. It will also encourage lateral thinking among academics.
"The art work that I displayed were of varying styles, which showed my capabilities as an artist. I haven't restricted myself to a particular style of painting," he said.
For Prof. Cooray the idea of exhibiting his work had always been there and he did have the opportunity. "I've had two exhibitions before although they were within the university and Prof. Laksiri knew about my interest and invited me to display my work at this exhibition."
His paintings were essentially visual presentations in abstract form, slightly different from conventional abstract paintings. "My preferences lie in expressing ideas and concepts. To me, art makes one more sensitive to life. It is not as competitive as the field of entertainment," he said.
The third artist, Mr. Bandara, described his painting as comprising personal ideas and rhythm. "I wanted to depict personal experiences and portray life at the University of Peradeniya. My paintings are essentially of European cubism, impressionism and expressionism."
These events are not for profit-making, stressed Prof. Laksiri who hopes to organize several more that will display the varying talents of academics.