The movements were graceful and flawless, holding the crowd spell-bound. Pin-drop silence just after the first event, followed in a moment by deafening applause.
Two acclaimed Indian dancers had just performed a Kandyan dance, having been under the tutelage of veteran dancer Upeka at the Chitrasena School of Dance for just a month. The performance last Saturday was for a select group of invitees.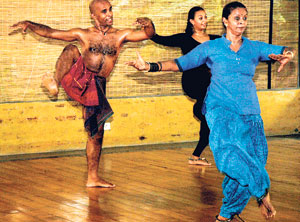 Upeka and her troupe
The exceptional performance after a month into the intricacies of Kandyan dance was a credit not only to Upeka as a guru (teacher) but also to Bijayini and Pavithra as her shishya (students).
Bijayini and Pavithra are from Nrityagram in India which follows the Odissi tradition. Bijayini is a guru as well as a performer for the Nrityagram Dance Ensemble and has taken part in shows worldwide. (See box)
"I have always felt complete as an Odissi dancer even though I have seen various forms of dance. That was until I saw Upeka dance," she says. "I immediately felt this was the other side of the coin for Odissi dance, a masculine form to Odissi's feminine."
When the late Chitrasena, who took Kandyan dance to the world stage visited Nrityagram in 2003 he had been so impressed with the dancers and their lifelong dedication that he gave an open invitation to them to visit the Chitrasena Kalayathanaya. A few years later Upeka paid a visit and performed there enrapturing the Indian dancers. It was then that they worked out an exchange programme – to teach Odissi dance to the Kalayathana students and in return learn Kandyan dance.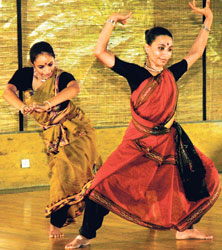 Bijayini and Pavithra show their skills in Odissi dance and (far right), their skills in Kandyan dance
Bijayini and Pavithra have been here for one and a half months now, learning Kandyan dance from Upeka and teaching Odissi to the Kalayathana ensemble as well as the students who come there every Saturday.
It is good to learn something new to keep the creative spark alive, stresses Upeka, explaining that the Indian dancers remind her of herself when young, constantly practising from morning till night. "Our dancers in Sri Lanka are not that dedicated. I myself practised incessantly but that was because I feared letting down my parents, I was not just any dancer, I was the daughter of Chitrasena and Vajira and could not let them down," she says.
Bijayini adds that in India they have strenuous practice sessions. "That dedication, I do not see in Sri Lanka except for this one family which is striving hard to keep their cultural tradition alive. There are no short cuts in art, you have to be at it or you won't be any good."
Although Upeka and Bijayini worked out a schedule before hand on what and how much ought to be taught, the Indian dancers had learnt thrice that much before the end of the month.
"If I taught them anything once, I never had to repeat it, they practised it until they got it right," says Upeka.
To show parents, friends and relatives what the two groups had learned from each other, an informal show was held at the Kalayathanaya, with both groups performing the others' traditional dance while showcasing their own.
However, the highlight came with Upeka's performance which held the crowd mesmerized for 45 minutes, transporting the audience to a world of sights and sounds of exceptional quality. The applause that followed was testimony to her skills and expertise.
With Bijayini adding that she is Going back to India with the feeling that she hasn't had enough and will certainly keep coming back, the promise lingers….of more joint performances between the Kalayathanaya and Nrityagram ensembles.
All about Odissi and Nrityagram
Odissi is the traditional dance form of the State of Orissa in India. One of the seven classical dances of India, it has an ancient lineage though it has died out and been revived many times.
One of the unique features of Odissi is its 'Tribhangi' which literally means three bends and is inspired by temple sculpture giving the illusion of sculpture coming to life. This dance form is demanding, as the performer has to use every part of her body.
Nrityagram is a dance village, about 35 km from Bangalore, set up by Odissi dancer Protima Gauri in 1990 to enable dancers to practise their art and achieve excellence. It follows the ancient Gurukul tradition where students live with the teachers to learn the art.
Bijayini Satpathy who has been a resident of this unique village for the last 16 years says, "I had been training in Odissi for 12 years before joining Nrityagram but it was only here that I connected as an artist with my art."
The Nrityagram ensemble performed in January at the Lionel Wendt.