It's was a stunning victory, bringing glory to Sri Lanka. It was, however, not cricket but netball.
Sri Lanka's National Girls' Netball team have just returned after a triumphant series in which they emerged the Asian Champions, resoundingly defeating (77-48) the defending Asian Champions, Singapore.
Sri Lanka's victory was due in no small measure to the fact that Asia's tallest netball player, Tharjini Sivalingam, is a member of the team. Towering above all at 6 ft 10", it was Tharjini who scored 74 of the 77 shots in the winning play off also bagging the Best Shooter of the match with a total score of 380.
Even as a young netball star, Tharjini had no inflated opinion about herself nor did she ever take offence at the numerous teasing remarks or stares that her height drew. She met both celebrity status and silly remarks with equanimity.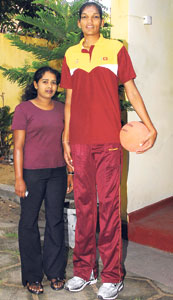 Reaching great heights: Tharjini with a friend of hers.
Although an extrovert, media pressure has driven her to try to keep a low profile. Happy not only that Sri Lanka have emerged the Asian Netball Champions but also her role in the victory, she however, seems bemused by the glare of the spotlight that national fame has brought on her.
"I just need some peace and quiet," she pleaded. Tharjini was born the fifth of six children to a family in Evinai, Punnalaikattuvan, Jaffna, where she had her entire schooling, after which she received admission to the Eastern University in Batticaloa to do her degree in Tamil.
It was during her first year at university, that she was "discovered", while representing the Batticaloa district at a netball tournament in Vavuniya in 2004. It was then that she came down to Colombo to join the National Netball Team. Explaining that university authorities were accommodating she says, that she went to Batticaloa thereafter only for her examinations, relying solely on self-study to pass them.
"I had to juggle my studies with strenuous netball practices and employment at Seylan Bank," says Tharjini who managed to do all three and successfully completed her degree.
With humility, she concedes that childhood ambition never included the possibility of becoming an international star. "I always wanted to be a university lecturer in Tamil," she says, a dream she still aspires to.
Asked where she got her height from, she smilingly answers, "God". Not from her family? "No – everyone in my family is of average height. This is certainly not genetic," she says. As a baby she was long and she was tall as a child, as an adolescent and now as a young woman. She stopped growing only when she was 22.
"By the time I was doing my A'Levels, I was the tallest in the school and that included the principal who was 6' 1". I was 6'2"," she grins. She says she felt slightly awkward at first, especially with all the comments and stares she got, but now she has learnt to be comfortable with her height and take the comments in her stride. "I am quite happy with my height now. After all this is what got me into the national team, made me a star and got us the Asian Netball Championship."
She credits her coach, both at Seylan Bank and the National Team, Thilaka Jinadasa for her success. "She deserves the credit for coaching us so well, she was a strict and demanding coach but that is how she made us into exceptional players," says Tharjini, adding that they were more worried about beating Malaysia than Singapore as it was to Malaysia they lost out in the semi-finals for the last championship in 2005. "But we planned and strategized and coordinated extensively to win the championship this year and we did."
Having gone beyond her wildest dreams as an internationally-acclaimed star, Tharjini should have no cause for unhappiness. But she does have a few. "It's very hard to live away from my family in a hostel. To travel by bus everyday is even more of a problem with my height. I have to be half bent if I have to travel standing as quite often happens during rush hours," she says.
The expenses of living in Colombo and her frequent trips abroad for tournaments are also a source of worry for her. "This time Seylan Bank sponsored my trip for the tournament but sometimes I have to depend on my parents and I feel bad about putting that pressure on them," says Tharjini. "In countries like India, I understand that some companies come forward to sponsor the players and their expenses and I think it would be a great idea to adopt that practice here too, as the expenses are sometimes beyond me."
However, happy-go-lucky Tharjini is contented to be where she is now, grateful to all those who have made her what she is….the overriding hope being to bring more fame and glory to Sri Lanka.