HE the President's remark about removing the term 'minorities' from our vocabulary is commendable as the term has played a major role in the conflict in all economic, political, social and cultural spheres in its history. However, it is necessary to translate this idea into reality rather than keeping it as a concept for the sake of avoiding conflict, and contribute towards sustainable peace.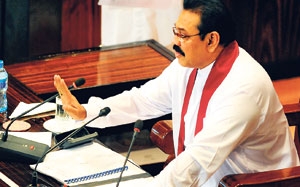 President Mahinda Rajapaksa gestures during his speech in Parliament on Tuesday. AFP
The Sri Lankan official practice of asking questions on people's ethnicity (Sinhala, Tamil, Moor, Malay, Burgher and other) as well as religion (Buddhist, Hindu, Christian, Muslim and other) is absurd. So far the answer to this question has served nothing. Moreover, the column requiring this information in all documents and certificates, starting with the Birth Certificate, needs to be deleted. All Sri Lankans should receive a uniform National Identity Card with the name in three languages.
The religion has become mere symbolic demonstration elements, rather than people making use of their valuable principles and teachings for promoting self-discipline and better social behaviour. Even public property has been used, probably without prior approval from the authorities and consideration into the adverse impact of such actions on communal harmony, to demonstrate these religious symbols.The population census of Sri Lanka is used to gather extensive information on ethnic and religious compositions of the population. This information has served nothing but contribute to conflict. Different parties both foreign and local, including those analysts interested in Sri Lanka's conflict, have used this data to derive at facts and figures and interpret them in different ways. It is therefore necessary to stop this practice of recording demographic information with ethnic and religious compositions.
Sri Lanka has only three main languages to be learnt by all Sri Lankans – Sinhala, Tamil and English. Unfortunately, today the majority of the Sinhalese do not understand Tamil and the majority of theTamils do not understand Sinhala. If they do not communicate with each other and understand each other, how can the two communities live in peace and harmony and develop their social, economic, political, and cultural relations? And how do they collaborate to build Sri Lanka as a developed nation? If Sri Lanka started to teach Tamil to Sinhala students and, vice versa at the outset of the war in 1983, today all those below the age of 30 would have the ability to understand each other. In another 25 years all except the elders would acquire this ability. Whereas children in the Western countries usually learn 4-5 languages in schools, why can't Sri Lankan children be taught at least these three languages?
It is also noteworthy that Sri Lanka wasted many years to draft power devolution packages and, then discuss and debate and finally, discard them due to inadequate consensus. Even now, the same process is taking place, despite its futility. While anticipating a successful agreement on the proposed power devolution package, the time is ripe to take concrete steps, first to fully implement the 1987 Constitution and, secondly implement others which do not require constitutional amendment. Bold steps have to be taken followed by actions where they could be easily achieved.
Given the public and political support over the military victory against the LTTE, I believe that many things which were impossible earlier and, which may be impossible later, could be easily achieved right now. And such steps would be welcome to the international communities who still hold some reservations about the Sri Lankan conflict. They will also help to silence the pro-LTTE international network and its malicious propaganda against Sinhala-Buddhist chauvinism.