The national flag was something not a single Sri Lankan would have missed seeing this week. Every street, shop, Government department and school and most residences and vehicles displayed a flag as the country celebrated the defeat of the LTTE.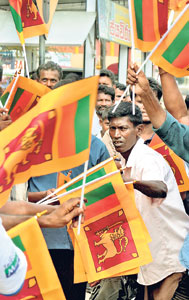 The Sri Lanka national flag - the hottest selling item. Pic. by Berty Mendis
From small boutiques to big malls to street vendors national flags were available. When they met proper standards or not they were sold. The demand for the national flags was phenomenal.
Ranmuthu Textiles in Main Street, Pettah is one of the main dealers for national flag materials. From last Saturday to yesterday, more than 50,000 metres of national flags of various sizes were sold.
"There was a demand for around 200,000 metres for which we had placed orders for flags from China and also locally. We sold the locally printed flags for around Rs. 45 and the flags from China for around Rs. 60 rupees," an official at Ranmuthu Textiles said.
He said that usually during Independence Day around 10,000 to 15,000 metres of flags were sold but this time there was a huge demand we did not expect. He also said that most of the purchases were made by State institutions.
Government Printer Lakshman Goonewardana said that national flags were printed for almost all the Government departments and were not for commercial use.
With the Government requesting people to hoist the flag in order to reflect the true Sri Lankan identity most of them had it hoisted thereby giving full respect but several unruly persons were seen in the City and the suburbs with flags tied to their heads or wrapped around their bodies, not realizing that respect should be accorded to the national flag.
Earlier this week, Cabinet spokesman Minister Anura Priyadharshana Yapa told citizens that victory should be celebrated giving proper respect to the national flag.