They were dancing in the streets to the sounds of traditional drums and music as they made their way to the city to celebrate the end of a bloody 27-year-old war and the final silencing of the separatist Liberation Tigers of Tamil Eelam (LTTE).
On Friday, an estimated 150,000 people converged on Colombo to observe the victory in a mass celebration. They ranged from toddlers to youths and the elderly, from the able and the disabled. They had come from all parts of the country, some from the remotest villages. Race, religion, caste and party colours had no place in a national event held to mark the defeat of a common enemy.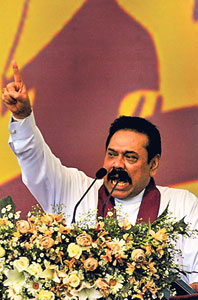 President Rajapaksa addressing the gathering.
The victory parade began at Campbell Park, Borella, and progressed towards Parliament Square, in Rajagiriya, where President Mahinda Rajapaksa addressed the mass gathering to deafening cheers and the burst of firecrackers.
The excitement was sustained by cheers from the people, while traditional drums kept up the tempo. Hundreds of volunteers and well-wishers lined both sides of the streets to hand out milk rice, sweetmeats and soft drinks to the thousands participating in the historic event.
In his speech, President Mahinda Rajapaksa remarked that it was the first time in his entire political career that he had witnessed such a large number of national flags at a single gathering, and it was a sight that made him feel very proud.
Among the crowds were mothers who had lost their sons, women their husbands and children their fathers.
H. M. Heenmenike from Eppawalla, in the Anuradhapura district, lost her son five years ago while in action on the Wanni front-lines. "I am not here to curse those who killed my son but to celebrate his sacrifice, which contributed to this victory," she said, with tears in her eyes.
K. M. L. Ariyaratne from Kebitigollewa lost two sons in the war. He had made the journey to honour the memory of his dead soldier sons.
"We have no hatred or bitterness towards anyone," Mr. Ariyaratne, whose third son is in the army, told The Sunday Times. "We feel only relief and joy to know the LTTE has finally been eradicated and there will be no more blood-letting, here or anywhere else in the country."