From simple advice on how to prevent children contracting diarrhoea and other diseases to the more sensitive issue of being alert against child abuse, is liberally being doled out by the Child Focus Desks at the camps housing nearly 300,000 internally displaced people in Vavuniya.
So far, there have been no reports of child abuse in camps, assures National Child Protection Authority (NCPA) Chairman Jagath Wellawatta who has paid many visits to the area.
Plans are underway to set up a Child Protection Monitoring Centre for the camps in Vavuniya shortly under former DIG Anton Jeyanathan who will liaise with the NCPA through former DIG Gaya Patikirikorale, The Sunday Times learns.
Dismissing allegations that paramilitary groups are recruiting children from within the camps, as a "mud-slinging campaign by certain groups" against the welfare programmes initiated by the Government, he said, "Nobody can go in there and take a child out."
Mr. Wellawatta challenged anyone who had information about such recruitment within the camps to contact the NCPA.
Unaccompanied children who may have been temporarily separated from their parents or guardians and those whose parents may be dead are being identified and measures are being taken to reunite them with a parent or guardian, stressed Mr. Wellawatta.
When asked whether they know the numbers, he said not only is the Vavuniya District Secretariat in the process of compiling a register but also re-uniting separated families. The NCPA is also about to launch a foster parent scheme, it is understood.
As far back as September 2008, the NCPA along with Government officials including those in the District Secretariat, NGOs and international organizations got together and focused on children's issues and how they could be handled, he said.
"Along with the Canadian Red Cross we have implemented a programme called 'Be safe' in other parts of the country, where a toy elephant is used to teach children the facts of life, which we are hoping to initiate in the camps as well," explains Mr. Wellawatta, adding that other plans include training master trainers who will create awareness among adults in the camps on the prevention of child abuse.
A Special Child Protection Monitoring Unit is already in operation in the Vavuniya District Secretariat and NCPA District Coordinators and psychosocial coordinators are active not only Vavuniya but also in Kilinochchi, Mullaitivu and Jaffna, it is learnt.
As a few District Secretariat officials would find it difficult to handle such large numbers, a decision was taken to set up Child Focus Desks in every camp. "These desks are being manned by a paediatrician, a nurse, an NCPA officer and a probation officer," explains Mr. Wellawatta, adding that these are in addition to the other medical teams which are working in the camps.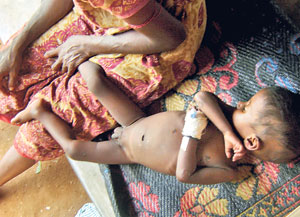 The children of the camps: Moves are underway to protect these innocent victims of war
A booklet on how to handle children is being printed for distribution in the camps while a training programme for those who will go up in rotation to man the Child Focus Desks will be held at the Colombo Medical Faculty on May 26 under the able guidance of Prof. Manouri Senanayake, he said.
Commending the efforts of all those who have put their shoulder to the wheel to make these desks a reality, he said the NCPA had got much support from Child Development and Women's Empowerment Minister Sumeda Jayasena, ministry Secretary M. Sumanadasa, Prof. Senanayake of the Colombo Medical Faculty, child rights activist Dr. Hiranthi Wijemanne, Prof. Ashwin Fernando of the Ragama Hospital and Prof. Sujeewa Amarasinghe of the Karapitiya Medical Faculty.
After more than 25 years of conflict, these displaced children have to get used to a new societal environment. Social and cultural bonds have snapped. They are traumatized, both physically and mentally, analyses Mr. Wellawatta, stressing that teenagers are a very vulnerable group. Many are the social issues which come with displacement. That's why therapy in the form of games, music and dancing has been introduced in the camps.
Post-war symptoms among children not only in the north but also in the south are creating much concern, says Mr. Wellawatta, adding that these need to be addressed immediately.
"Some children from the north are used to bearing arms, demanding kappam by brandishing a weapon or collecting ransoms after abductions. Others have faced suppression and fear," he says. "Just because the war is over doesn't simply change behaviour."
In the south, there are children whose soldier-fathers have been killed or disabled. There are also children whose fathers or mothers have been killed by terrorists. These are the "side-effects" of the war that need to be addressed immediately, he explains.
He recalls a scene etched in his memory, when he went to the Moneragala Hospital after a terrorist attack in the area and how a little child kept telling those around that his father was sleeping and would soon come out.
The father was, in fact, in the mortuary and would never come back to this child. Will not this child develop hostility towards society, asks Mr. Wellawatta, adding that post-war efforts must address every child's need.
Malnutrition a leading problem
Malnutrition and psychosocial issues are the main problems that NCPA Chairman Wellawatta, a sociologist, has observed during his visits to the camps in Vavuniya.
Although the exact number of children (those under 18) has not been recorded yet, generally it is estimated that one-third of those living in camps would be children, he says.
Malnutrition because they have not had proper food for a long time while living in the uncleared areas seems to be prevalent, he said, adding that after discussions with health personnel in the area it is believed to be about 25%.
"There also seems to be 'child mothers' among 15, 16 and 17-year-olds," says Mr. Wellawatta. "These marriages may have been a measure to prevent children being recruited by the terrorists." Marrying them off and the subsequent pregnancies would prevent such recruitment, he adds.