Sports
---
Cleaning up the Ranatunga stable
Any runaway choo-choo engine either has to crash or be brought to a halt before it could do a lot of damage to itself and to a score of other things that would be in it s pathway. It looked as if a bad spell had been cast over Sri Lanka cricket.

So much so an irate Interim Committee member who even earlier had sought to move on as he could not stomach the happenings in local cricket anymore and had spoken to the Minister of Sports Gamini Lokuge on that unforgetable Tuesday at 11 a.m. and told him that enough was enough and his resignation would reach the minister by afternoon. The minister in turn had requested the irate IC member just to hold to the letter till 4 p.m. and at 3 p.m. the Minister had dissolved the whole SLC Interim Committee.

Now that the horse has been let loose, it is up to the incoming committee to get down to damage control from day one and then give a serious look towards cleaning up of the stables.

Prior to getting down to the business of cleaning there are some questions that has to be probed about the Ranatunga reign. Getting the players to indulge in the game in an era where quality cricket is hard to come by for the Lankans is good. Nevertheless we also must initially assess as to how many wrong buttons were pressed in the process and the long term on and off the field repercussions of it.

Now the question that we must ask is how good were Ranatunga's intentions in agreeing to this tour and why was it done behind the backs of the SLC Interim Committee or the SLC Cricket Committee at that.
Let's leave cricket off the shelf for the time being. As we all know these are politically resilient times. In Sri Lanka there is a raging internal war that even has become a huge political bother to the Indian Central Government. India is still recovering from the Mumbai debacle and finally it was a political decision that India took to bar the cricketers from travelling to Pakistan to honour their FTP obligations. At the same time there is a raging political turmoil in Pakistan – one of their own and the other with their immediate neighbour India.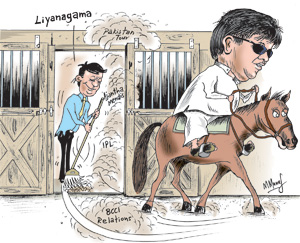 Once India had refused to travel to India was it politically right for the Lankans to agree to this tour?. Another matter of fact is that the relations between Pakistan and Sri Lanka also has been very cordial and if Sri Lanka now decide to pull out from the agreed tour, how politically healthy would it be for the future relations between Pakistan and Sri Lanka?

These are questions that Ranatunga should have pondered before agreeing to such a move. At the same time even the ICC has shown their reservations about sending their representatives to Pakistan to officiate in the series. They have stated that they would agree to send their officials only after they make an initial safety investigation of their own. Once again Ranatunga did not believe in even consulting the ICC about such a development.

Now seemingly the governments of both countries have intervened at foreign ministerial level and brought the hapless situation under control, but the long term effects of this move is yet to be known.
This is not the first occasion that Ranatunga used Pakistan as a tool and ended up with an empty plate. That time too the decision involved Indian Cricket. Last April a five match ODI series was arranged with Pakistan that was going to clash with the Indian Premier League 20/20 tournament that involved a good segment of the Lankan cricketers and the tour never materialized.

They say Arjuna Ranatunga is not so convinced about the status-quo of the 20-20 version of the game and he really has been a vocal critic of the IPL.

However at the same time he seems to have taken a softer attitude towards the Indian Cricket League Tournament and the cricketers who took part in that tournament and were banned by the SLC regime who held power before him.

He was not only instrumental in their release from the ban in the participation in local cricket, but, he also brought them to the post match prize distribution podium during the last Indian Cricket tour of Sri Lanka.
It must now be probed if this move was made on his own or was he under someone else's instructions.
These are some of the wrong moves made by Ranatunga during his short tenure and they could have long term bad vibes for Sri Lanka Cricket.

Now the Sports Ministry secretary S. Liyanagama has been appointed as the competent authority of SLC and according to the Sports Minister Gamini Lokuge he is going to hold sway at least in the near future. Speaking to The Sunday Times the minister said that Liyanagama will be at SLC's helm till the present problems are sorted out.

However the bad ripples on Liyanagama tenure is that once again notorious B.H. Perera who has a string of charges against him at the SLC has come to life. It is reported that the first day that Liyanagama took charge of the SLC office B.H. Perera (alias Podi Sir) who once employed a relation of Liyanagama at Galle stadium, was in the secretary's room for about three hours.

This is the negative part of the current situation. As a respected government official Liyanagama should try to keep his nose above water and should try to keep away from bad influences of this nature. Right now he is there on a very important mission. He must get down to this important business as soon as possible and keep a clean room for whoever takes over the seat next.
|
E-mail
|
views[

1

]