Sports
---
Ajantha given the greenlight by Sports Minister
By S.R. Pathiravithana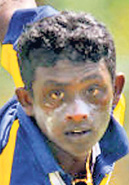 Ajantha Mendis

Sri Lanka's mystery spinner Ajantha Mendis will leave the island tomorrow to join the rest of the squad as an extra player and in all probability will be a part of the action in the second Test which is scheduled to begin in Chittagong, Bangladesh on January 3.

In our last Sunday's edition we revealed that Mendis might not make it to Bangladesh to join the team from the second Test onwards though he had been given the green light by Sri Lankan physiotherapist Ranjith Nanayakkarawasam and there had been requests from skipper Mahela Jayawardena and coach Trevor Bayliss for his inclusion as an additional player.

Our story said the now deposed SLC interim committee chairman Arjuna Ranatunga had refused to include Mendis citing the expenses involved. He was also reported to have said that if Mendis was to be included it would have to be done with the approval of the SLC Interim Committee.

However, following our exposure Sports Minister Gamini Lokuge has intervened and given Mendis the green light to join the touring squad as a playing member.

It is also learned that former Interim Committee member Guy de Alwis who was stopped in his tracks at the Singapore Airport arrived in the island on Friday. He was on his way Bangladesh as the IC member on tour with a pocket allowance of US$ 1500 at hand.



Liyanagama appointed as competent authority

In another twist of fate in Lankan cricket the immediate future of SLC has been handed over to Sports Ministry secretary S. Liyanagama., who has been appointed as the Competent Authority.

Giving his view on the landmark move, the first in Sri Lankan cricket history, Minister Lokuge told The Sunday Times, "There are several issues that have to be handled with care right now. So I have decided to appoint Mr. Liyanagama as the competent authority of SLC and there will not be any new appointments made just as yet".

Liyanagama explaining about his role at SLC told The Sunday Times that he would especially seek the assistance of his accountant at the Ministry of Sports and if and when necessary get the others in the ministry to assist him.

However on matters pertaining to cricket he would get the assistance of those who are now employed at the SLC and also get the assistance of CEO Duleep Mendis once he gets back to work after his holiday in Australia tomorrow. He also added "It is still too early to say anything because I was there for only a half a day, but I expect to get down to a real study of the place from tomorrow"

However several former Sri Lanka cricketers welcomed the move and said that the administration game has been so politicized SLC going directly under a government official may be good for the game and its future.
|
E-mail
|
views[

1

]