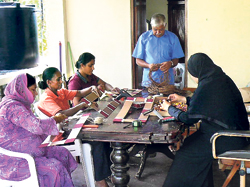 Many businessmen achieve their greatest successes in unexpected areas - using their experience and momentum they strike pay dirt. Such is the story of Zulfikar Hashim, the proprietor of Nature Crafts, manufacturers of eco-friendly handmade products. A hotelier for nearly eight years, he had 'stumbled' upon a hobby, which went on to become his livelihood. "After working in several hotels, my last stop (in Sri Lankan hotels) was at Taj Exotica in Bentota. Here there are many coconut trees. I used some 'Matalu" (mesh like formation under the coconut branches) and created greeting cards to send my friends at the end of the year. This was the start," he reminisced on his beginnings to The Sunday Times FT.
This went on for two years, till he got an opportunity in a hotel in Maldives. "Here I used to collect small riffraff from the beach and make small souvenirs and cards. I also got the tourist boutique at the hotel where I was working to sell a few of these items," Mr. Hashim remembered.
He said upon his return six months later to Sri Lanka he did not have a clear idea about what he should do next. "For about two months I was unoccupied and then I thought of doing something new. As a result I made a 'coir frame' which was my first product," he said, adding that he managed to better the product after two to three attempts.
He had gifted this product to a couple as their wedding present. The couple was so impressed with it that they wanted to know where he had bought it from. This couple then went on to order some more such items for gifts. "That is how my business started," he said. He had made about 20-25 coir frames and managed to sell all of them. "Then I went to Japan and was there for two and a half years, but for short spells at a time. Once when I came to Sri Lanka I took some photographs from my mobile phone of the coir frames I made and showed them to some shop owners in Japan. They also placed an order for some items," he said.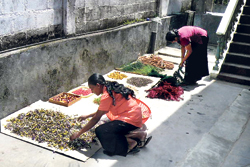 He then decided to return from Japan for good as he 'felt' there was something for him here. "Then I registered my company on May 25, 2006." In about two months, Mr. Hashim had received a membership from National Crafts Council and later at the Chamber of Handicrafts. "At the time I had a very small customer base of about six customers," he said.
In December 2006 he participated at a handicrafts exhibition at BMICH and this was the turning point for him. "The feedback was very good," Mr. Hashim said. Then as he went along with his small handicrafts project he ventured to learn a lot by trial and error.
"As I went along, I learnt about proper chemicals, glues, etc. Then I decided to develop my products, based on four categories, namely herbs of Sri Lanka, spices of Sri Lanka, wild flowers of Sri Lanka and Sri Lankan Tea of Life, "he explained.
Mr. Hashim now has four employees and has his business in a separate part at his home. "I have some spices and herbs which are used for my products grown in my garden," he said, explaining that all his products are environmentally friendly.
"Our theme is eco-friendly. We never use polythene or plastics in our products." In the future Mr. Hashim said that he wants to concentrate and service the export market that has already taken off for his products.
"Through this I want to popularise my country's name. By doing this, I feel I can give something back to the country by helping to give some brand name and identity to it," he said, adding that now this venture has become his direction in life.
He said the company has taken part in more than 10 trade fairs such as Inco, Kedelle, Home & You, Home & Property, SAARC Trade Fair and Hands Lanka. He said his next plan is to patent these products by next year.