The government, in its efforts to provide similar facilities in the 'liberated' areas like the rest of the country, has set up 64 ICT service delivery centres (Nenasalas) in the Eastern Province.
Out of these 32 are in the Ampara district while the Trincomalee and Batticaloa districts have 16 Nenasalas each, a statement from the Information and Communication Technology Agency of Sri Lanka (ICTA) said.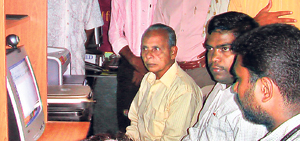 At a Nenasala centre in the East
These 64 tele-centres form part of the 570 Nenasalas (out of the 1000 earmarked for the near future) which have been set up throughout the country. A majority of the Nenasala centres follow a community model where the centres are established in a central place of a village such as a religious institution, public library or a community organisation. These centres provide a range of services including high speed Internet to access national, local and international information; e-mail; telephone; computer training classes and other ICT related facilities, the statement said.
Content essential to the rural community is available in Sinhala and Tamil to all users. The Nenasala centres act as resource centres to the village to disseminate knowledge and share information through the Internet with the ultimate goal of reducing poverty, peace building, economic and social development and improving the IT literacy rate of the country, ICTA added.