A combination of high interest rates, a local economic crisis and the need to provide low rates to the consumer has led to lower profits and lower share value for Sri Lanka's biggest mobile operator which has a 53 % share of the market.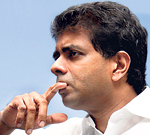 Dr. Hans Wijayasuriya
Dialog Telekom PLC's Group CEO, Dr. Hans Wijayasuriya, in an interview with The Sunday Times FT, also said he believed the entry of a new player (Airtel) is not going to reduce Dialog margins or is a serious threat to current players in the market."Interest rates have doubled to 22 % from 10-11 % a year ago and (as a result) our costs are rising. That's why treasury bills at 18-19 % are pulling retail investors away from the stockmarket," he said in an interview that dealt with a range of issues confronting Dialog and the mobile industry.
The interview was given before the latest results were announced on Thursday where the group reported a loss of Rs 192.4 million for the three months to September 2008 against a profit Rs 2.4 billion. The group's 9-month results showed a profit of Rs 1.0 billion, sharply down from Rs 7.3 billion in 2007.
The industry, around 9.5 million phones now, is set to hit 10 million in the next few months, with Dialog controlling more than half that number. "With that level of penetration we need to ride with the consumer through the good times as well as the bad times. In a rising economy you need to rise with the consumer. On the other hand when there is economic pressure and consumers have tough times, you need to ride with these concerns," he said, adding that in this context Dialog's strategy is to cut margins and reduce rates. "Our decision is to ride with the consumer in an anti inflation exercise and loyalty exercise with a long term view to taking their loyalty and keep their faith in the largest customer. I am sure the shareholders will see this as an asset," he said.