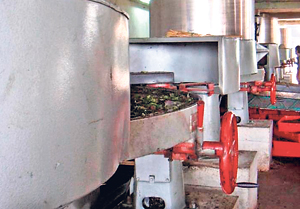 Seen here is the fully automated tea rollers in operation in Vietnam.
MTD Walkers PLC will soon venture into global markets with a range of automated solutions for the orthodox tea industry, the company announced this week, after receiving a patent licence for its fully automated tea roller recently.
"We have already carried out two trial installations of the fully automated tea roller in Rwanda and Vietnam, in addition to those installed in Sri Lanka. Owing to the successful operation of these tea rollers, the company has been able to secure many export orders from countries which are into orthodox tea production such as Vietnam, Indonesia and India. MTD Walkers PLC expects to generate a revenue of Rs 100 million during the next year, through exporting tea industry related machinery," Head of Operations of MTD Walkers PLC, Air Vice Marshall (Retd.) Lal Perera was quoted as saying in a press release.
"We believe our decision to venture into foreign markets is a timely one, since global trends indicate an increasing demand for tea produced through orthodox methods, which in turn will result in an increased demand for orthodox tea production machinery," he added. Walkers, now controlled by Malaysian interests, has been in the plantation engineering industry for over 150 years and are pioneers in providing machinery to the tea industry.
MTD Walkers PLC was formed in November 2007 as a result of MTD Capital, a leading Malaysian based civil engineering and infrastructure Company, purchasing a majority stake in Kapila Heavy Equipment PLC, which was the former holding company of the Walker Sons group of companies.