The Galle Art Trail now on at the Old Bakery, Galle Fort, Galle has on display the work of popular young contemporary artists Sujeewa Kumari, Vajira Gunawardena and Dumith Kulasekara.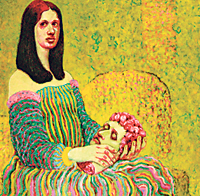 A creation by Dumith Kulasekera
For the duration of the festival which ends on November 2, their work is on view at an unfinished building site locally known as the Old Bakery, located on Lighthouse Street in the centre of Galle Fort. The 200-m2 space serves as an alternative art space, shared by photographers Menika Vanderpoorten and Dhanushka Amarasekara and Argentinean-born artist Cora de Lang. Gallery hours are daily between 10 a.m. and 6 p.m.
The Galle Art Trail sees a range of venues, including private houses, verandahs, hotels and warehouses in the historic Fort area, hosting a large and diverse collection of arts and crafts by some fifty local and international artists.
Making use of unusual sites in the city is the idea of festival organizer and entrepreneur Geoffrey Dobbs, founder of the Galle Literary Festival. Says Dobbs, "In the absence of formally established art galleries and art spaces, using what is available makes sense." Organizers hope that the Art Trail will temporarily revive the historic city renowned for its exceptional cultural heritage after it was hard-hit by the slump in international tourism.