His long career has placed him in the company of George Lucas, Brian De Palma, Francis Ford Coppola, and Steven Spielberg – men who changed the face of cinema in the 20th Century. It's difficult to imagine that such an established screenwriter (his credits also include the script for The Mosquito Coast), director (most famously of American Gigolo, the movie that launched Richard Gere's career) and film critic, didn't watch a movie till he was 18 years old and that his first experience was a disappointing one. Fortunately he did eventually, find a great deal to love about cinema.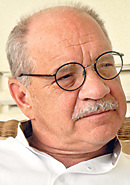 Paul Schrader
I meet a tired Paul Schrader on a rainy morning in the Galle Face Hotel. As the wind coming off the ocean bends the coconut trees, and slams rain drops against the closed windows, Paul talks about what inspired him to write the iconic film Taxi Driver, why he chose to rewrite Raging Bull for Robert De Niro and "Marty" Scorsese, and the rave reviews that his latest film and its star Jeff Goldblum are inspiring.
"Just like one never forgets one's first love, a filmmaker never forgets his first film love. My first film love was European cinema of the sixties, and that pretty much informed my whole career," he says looking back. Straight out of the UCLA Film School, Paul became a film critic in L.A. It was the 1970s and perhaps contrary to all expectations, Paul's life – both personal and professional - had begun to fall apart around him.
"It was then that I got this idea, this metaphor, about the taxi driver; this was sort of what I was like, this kid inside a box, floating through the city, seemingly surrounded by people but desperately alone. And from that metaphor I wrote that script and I wrote it as self -therapy," he says.
In 1980 Raging Bull starring a young Robert De Niro was released. "Marty (Martin Scorsese) didn't want to do a boxing film, and I certainly didn't want to do a boxing film; but this was something De Niro wanted to do." When Paul began his research, he discovered Joey, brother and manager to Jake La Motta – the boxer whose life the story was based on.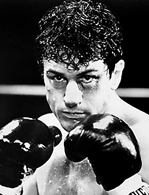 Raging Bull starring a young Robert De Niro
"I started reading about the fighting La Motta brothers, and it was quite an interesting story because they were both boxers and the younger brother was quite handsome and they sort of made a deal, where the younger brother would be the manager, and he'd get the girls, and the older brother would be the fighter and he'd get beat up and they would split the money. And that of course was a recipe for disaster, but now I had a considerably more interesting sibling story." The movie would go on to win two Oscars and gain wide recognition as one of the best films ever made.
His latest offering, Adam Resurrected, "a story about a man who once was a dog who meets a dog who once was a boy" was screened in Galle yesterday as part of a fundraiser for the Galle Film Festival that is scheduled for early next year (www.gallefilmfestival.com).
Not surprisingly, over the course of his long career Paul has gained a reputation for creating very violent, often sexually explicit screenplays. It wasn't a reputation that he was comfortable with but ironically Adam Resurrected once again runs along those lines - "maybe after 30 years it's time to go back," he says.
Note: The Galle Film Festival is held in association with the Sri Lanka Tourism Board, and the launch event is on November 1 and 2.