It was a birthday party of special significance. On October 6, at a simple ceremony held at St. Nikolaas' Home down Saranankara Place in Dehiwela, Margaret Silva celebrated her 100th birthday with British High Commissioner Dr. Peter Hayes presenting her with a letter of congratulations from Queen Elizabeth II.
Margaret Ethel "Peggy" Silva was born on October 6, 1908 on the outskirts of London. she was a "tomboy" growing up with two elder brothers and when it was time for her to choose a career, her parents chose the College of Nursing.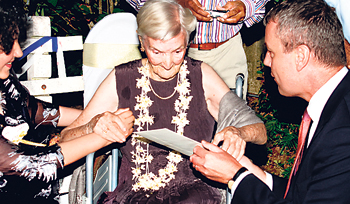 British Ambassador Dr. Hayes presenting the letter from the Queen to Peggy while her granddaughter looks on
While working in Middlesex Hospital, she met the man who would change her life and bring her to a distant land. Lionel Silva was studying to be a Doctor. He had already studied medicine for nearly 10 years and was having an enjoyable time in the U.K. – not wanting to return to Sri Lanka on completing his exams. Peggy soon changed all that. He qualified and they were married in 1934. In 1936 their first son was born.
At the outbreak of World War II, Lionel decided he wanted to make a brief visit home to Ceylon but on arrival in the island, Peggy liked it so much that they decided to settle here.
Peggy, Lionel and Michael (their son) settled in Matara where Lionel established a most successful general practice in the early 1940's.
In 1940, Peggy gave birth to a son, David, and in 1944 to a daughter, Rosemary. Life was wonderful for the family till 1954 when Lionel suffered a brain problem and died. This was a shock to not only the family but his many patients and the extended town of Matara.
Peggy then moved to Colombo, to Bambalapitiya to live in one of the family homes. She had great support from all her sisters and brothers-in-law in re-establishing the family home and bringing up her three children.
Just as she was recovering from her husband's loss, tragedy struck again. She lost her daughter, Rosemary to whom she was very close in 1963, at the age of 19. Son David, who was a very bright lad enjoying life like most kids of his age did, had a bad motor cycle accident, also in 1963, and would have been a quadriplegic if not for the excellent skills of the Doctors who cared for him. But he never really recovered. He died in 1971 and this was another great blow for Peggy.
But her indomitable spirit surfaced and through her sorrow, she faced life with courage and fortitude. Despite her eldest son Michael, a tea planter, deciding to migrate to Australia in 1972, and urging her to join him and his family there, she was determined to stay on in Sri Lanka.
She ran an open house for anyone till the age of 93 years when she had a fall and fractured her hip. Since then, she has lived at St. Nikolaas' Home run by the Dutch Burgher Union where she is content and well cared for.