I watched the flamenco performed for the first time last Sunday. I sat enthralled as the performers stepped into the spotlight, torsos upright, heels beating a rapid staccato on the wooden stage. A hour and a half long performance and an encore later I left feeling steeped in the passion and flamboyance that is the flamenco, and somewhat sad that the performance was an invitation-only one and as such not open to the public.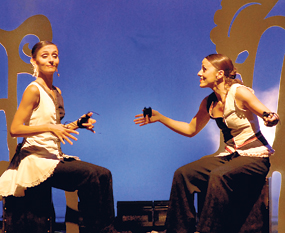 Body language and facial expression very much a part of the dance.
Organised by the Embassy of Spain, New Delhi, the evening's performance at the Bishop's College auditorium featured the Spanish dance troupe Increpación Danza with 'Tablao'. Having performed in New Delhi and Kathmandu prior to their arrival in Sri Lanka, the troupe has now represented Spain in over 20 countries. Four dancers - three of whom were women - and two musicians performed several distinct numbers, each one seeming to characterize yet another facet of the dance. Flamenco refers not only to the dance but to a genre of music as well, and as is traditional the dancers were accompanied by a musician on a Flamenco guitar and a singer.
The music that night was intricate plucking and rapid passages, while the singing was soulful and romantic. Any attempt to describe the dancers must rely heavily on paradoxes – the performers were passionate and abandoned, even as they utilized exquisite control. Their heels beat so quickly that the resulting sound seemed to become pure vibration, even though every strike rang out like a shot.
They used body language and facial expression to convey tortured love, pure aggression and wild joy, even as they simultaneously strove for grace and dignity.
With their tireless feet and gorgeous flowers tucked into their hair, the performers made the event a wonderful and fitting commemoration of the National Day of Spain. Each new item was accompanied by stamping feet, clapping hands and loud appreciative cries of "ole!" - inspiring visions of it unfolding around some small gypsy fire in a field. Apparently, like American jazz, flamenco dancing also involves much improvisation.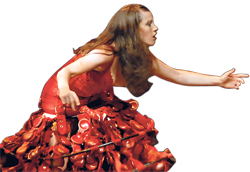 The only kit that compensated for flounced red dress
This was most apparent in the space before a dancer began, when he or she simply stood still as if absorbing the cries of their audience. When they did begin to perform, they seemed to do so with their entire body – arched spines, arms held high and wide, they spun and stamped. The dancers contributed to the music not only by tapping their feet, but by beating on boxes, clicking castanets and rustling fans as well.
Andulasian by origin, modern flamenco dance and music is influenced by a number of diverse cultures, including those of the Moors, Jews and Gitanos. Uniting the traditions of Spanish ballet, flamenco and contemporary dance, Barcelona-based Increpación Danza chose to offer a somewhat modern take on a constantly evolving tradition.
Much to my disappointment, this meant contemporary outfits as well. There wasn't a single flounced red dress in sight, unless you count the one made almost entirely of rattling plastic saucers. However, in the end a beaded jacket that lit up like a Christmas tree when the lights were switched off did somewhat compensate.