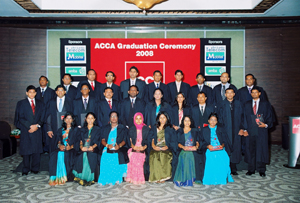 Stand out from the crowd with a UK degree and global accounting qualification with ACCA
Do you want a career in accounting and finance? Can't decide whether to study for an academic or professional qualification? Don't compromise - study with ACCA to gain both a UK degree and an internationally recognised qualification and give your career the best possible start.
Worldwide, the demand for talented finance professionals continues to grow - and the best jobs are reserved for those who are qualified. But with so many accounting qualifications to choose from, how do you know which one is right for you?
The ACCA Qualification provides a framework of leading-edge exams, practical experience requirements and ethical development to help you achieve the breadth and depth of skills that you will require as a finance professional. Whether you intend to remain in Sri Lanka or travel the world, the ACCA qualification is your passport to a rewarding career.
So why choose ACCA?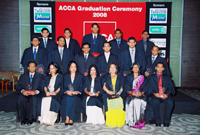 We are the global body for professional accountants with over 325,000 trainees and 122,000 members worldwide - every eight minutes someone, somewhere in the world registers with us! Our network of 80 offices and centres worldwide is unrivalled.
The flexibility of the ACCA Qualification means that it doesn't limit you to one particular sector. As an ACCA member, you will have the opportunity of working in any business sector you choose, be it public practice, public sector, financial services or corporate sector, giving you access to a broad range of complex and interesting roles.
Our competitive fees and flexible exam entry options ensure best value for both your time and your money.
Since we were founded over 100 years ago, we have built a reputation of excellence in qualifications and training that is recognised by employers around the world.
`
The ACCA Qualification is broad-based and focuses on the essential skills of accounting, business and finance, without introducing unnecessary barriers to membership. It offers a choice of exams and practical experience requirements to allow students and their employers to tailor the path of the Qualification to suit their needs and aspirations. In order to qualify as an ACCA member, you will complete:
14 exams (nine of which are eligible for exemption)
relevant practical experience (a minimum of 36 months)
A Professional Ethics module.
BSc (Hons) in Applied Accounting from Oxford Brookes University
In addition, during - or even after - your studies, you can choose to complete a research and analysis project and gain an internationally recognised UK degree qualification: BSc (Hons) in Applied Accounting from Oxford Brookes University.