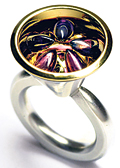 It is said that if one strolls through the Egyptian wing of an art museum, you will find spectacular pieces of jewellery of all kinds. What was admired by Cleopatra is still true today. For thousands of years, people have used jewellery to adorn their bodies and celebrate special occasions.
fine piece of jewellery is no less than a masterful work of art, one we have the luxury of displaying on ourselves rather than the wall. Today, the creation of fine and costume jewellery is also a multi-billion-dollar global industry dominated by such big names as Tiffany, Van Cleef & Arpels, Cartier, and Bulgari. Forecasts by Fashion experts or varying trends in jewellery, usually does not influence a person when buying jewellery. What ultimately attracts that person to a piece of jewellery, is aesthetically pleasing design and proper execution of that piece.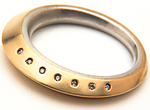 To succeed in this competitive and highly specialized field, jewellery designers need imagination and creativity together professional training. The ability to spot a diamond in the rough, to foresee the trends that will soon be in high demand, and to manufacture custom pieces to meet exact measurements and customers desires are not born talents. They can be acquired with the right education and experience.
The Academy of Design in collaboration with Birmingham Institute of Art and Design UK, launches an international Diploma in Jewellery Design and manufacture!

The Academy of Design (AOD) is Colombo's premier undergraduate education institute in Design. Birmingham Institute of Art and Design (BIAD) - School of Jewellery is said to be the number one school for Jewellery Design in the UK. AOD launches the jewellery Design Diploma from Edexcel Intrenational UK (London Qualifications) with technical assistance from BIAD.
Admissions for 2009 have begun. You are invited to make an application!
For more information contact: The Academy of Design, No 33 1/1 Queens Road, Colombo 03. Tel: 5742480, 5742490, 5867772 - 3, 2502850. www.aod.lk, Emails to info@aod.lk