Spelling B's, debates, quizzes, you name it, and you know you are bound to come across at least one of them while still in school.
However, a business quiz is a relatively new concept and the Synergy Genius Inter-School Business Quiz, a business quiz for advanced level students studying in the Commerce stream is brought to schools by the Synergy School of Marketing, with the aim of helping young professionals of the future identify career opportunities and gain an understanding of the corporate world which they will someday be a part of.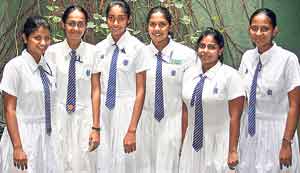 Holy Family Convent
The Synergy Genius Inter-School Business Quiz will be held in two stages, one in Colombo and the other in Kandy. The Colombo leg will take place at Kings Court, Trans Asia Hotel on September 27 at 10am, and the schools that have been invited to participate are Holy Family Convent, St. Bridget's Convent, S. Thomas's College, and St. Joseph's College.
The students will be tested on Business Knowledge, General Knowledge, Sports and Current affairs – local and international. The teams will consist of six members which include a reserve.
The members of the Familian team – Romela Joseph (18), Inakshi De Silva Wijeyeratne (18), Ahshikaa Ismathdeen (18), Danushi Perera (18), Shenali Goonawardena (17) and Vinoka Fernandopulle (17) feel they have a good chance of doing well at the quiz. Gathering information from the internet and the school library, the Familians had adopted the strategy of dividing the topics among team members while ensuring that each one had a basic knowledge of all the topics.
The girls went on to say that their main aim in participating was to gain valuable experience and knowledge for the A/Levels as well as for the future.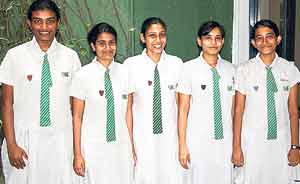 St. Bridget's Convent
Dilini Hettiarachchi (19), Prabhavi Liyanage (19), Amali Peries (19), Thilini de Alwis (19) and Stephanie Fernando (19) from St. Bridget's, said they had covered all necessary topics and added that preparing for the quiz had compelled them to "read stuff we would normally never read", which will greatly help them in higher studies like CIM and CIMA. When asked whether they have a chance of winning, they confidently replied "yes we do, obviously!"
Josephians Sujan Warnakulasooriya (19), Himalsha Gunawardana (19), Rohith Wijesooriya (19), Michael Mendis (18), Sadithra Warusevitane (17) and Shalinda Fernando (18) said, "having a quiz catering to our stream is rare."
Team members Sachithra, Sujan and Himalsha, who have participated in General Knowledge quizzes like Rupavahini Genius and Nestomalt Buddhi Prabodha, said they have a good chance of winning the competition as they have a well balanced team. When asked what advice they would give next year's Josephian team, the students said the most important thing would be to have fun and learn as much as possible, and added that "it's rare to participate in quizzes involving only a few schools, but even though it is small competition, it is good competition."
Shanindra de Alwis (18), Kasun Amarasuriya (18), Sathish Casie Chetty (18), David Rajasingham (17), Dilranjan Wickramasooriya (18) and Gayath Sumanaratne (17), will be representing S. Thomas' College and said the quiz had interested them as it proves to be an opportunity to learn something new and gain exposure for the school.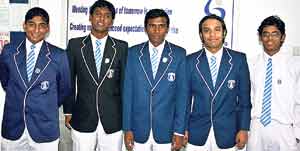 St. Joseph's College
They too are confident of doing well and went on to say that "current affairs is our strong point" as they have a current affairs forum in school where they always score well.
Michael Ranasinghe – Director, Synergy School of Marketing, and Gimara Ranasinghe – Head of Marketing, Synergy School of Marketing, said they had taken on the responsibility of organizing this quiz because being lecturers, they realised the global economic situation and wanted students to carry on what they learn in school when doing higher studies.
Michael also spoke of how Mr. Eardley Perera, a pioneer in the field, who introduced the field of Professional Marketing Education to Sri Lanka, pointed out the single problem companies today face, which is that although the students who come to them have passed their exams, they do not seem to have really learnt anything.
Programmes like this aim at giving students the opportunity to absorb what they learn and it is clear from the students' response that while they are learning, they are also having fun.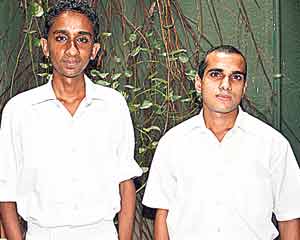 S. Thomas' College
Mohamad Adamally, Director of Synergy School of Marketing, added that this type of quiz, in the short run will help them gather knowledge for the quiz, while in the long run helping them to get into the habit of reading and gathering information, thus benefiting them in their future professional businesses, as well as their higher education.
Michael and Gimara went on to say they will endeavor to make this quiz an annual competition, adding that it will evolve with time especially as it is the first business quiz for school children in the country.
For students interested in viewing the quiz cotnact the Synergy office on 2564464/5. Please contact the school early, as seating is limited.
The Associate Sponsor for the Synergy Genius Inter-School Business Quiz will be Hatton National Bank, James Finlays and MAATFLORA. The Audio Visual Partner will be Pan Audio while Debug will award a lap top to the winning school. The Print Media Sponsor for the event will be The Sunday Times.