First Sunday (2008)
Cast: Ice Cub, Katt Williams, Tracy Morgan
Director: David E. Talbert
Running Time: 96 mins
First Sunday revolves around Durell (Ice Cube) who is told to come up with $17,000 to pay his ex-wife's debts in order to prevent her and her son from moving away. His best friend and clumsy partner-in-crime Lee John (Tracy Morgan) also finds himself in financial distress after losing a van load of wheel-chairs belonging to a local Jamaican gang. In a desperate bid to find some quick money, the two friends come up with a plan to rob the local church's offertory, but get a little more than they asked for when their quick fire plan goes completely off course.
Soon, Durell and Lee John find themselves holding half a congregation hostage within the church while trying to locate the offertory money which appears to have been stolen prior to their break in. Frustrated and desperate, the two friends hold the pastor and a few elders at gun point until one of them reveals where the money has been taken.
Ice Cube may not be the greatest of actors to associate with PG 13 comedies but nonetheless he seems to have found his niche in starring in such movies. Films like Are We There Yet, Barbershop, and Longshot have not been great comedies but seem to do reasonably well in cinemas as family entertainment pieces. In First Sunday, Ice Cube converts his gangster rapper roots into those of a loving father, intent on doing whatever necessary to prevent his son from leaving. A series of mistakes, wrong choices and a very stupid friend eventually leaves him with a church full of people and a severely damaged moral compass.
The film, consisting of a script plagued with weightless fluff, does little to create any real laughs but has its moments of comedy, especially when Lee John's character is involved. Even though Tracy Morgan's performance is thoroughly overdone, a few of his scripted lines are decently funny, while Ice Cube is his usual self with an array of around three different facial expressions throughout the film. A notable feature in the film is Katt Williams who plays the eccentric and slightly effeminate choir leader Rickey. Williams is funny throughout most of the film and takes a slapstick stereotypical jib at a choir leader.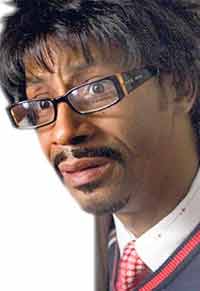 The film's plot is one with plenty of comic potential although completely ludicrous while the execution is not particularly great. It turns into a hostage film with really very little drama and presents the audience with an anti-climactic story along with an incredibly bad ending. The film becomes cliché and ultimately sends a very poorly processed moral truth across to the audience. However this is understandably so, especially since no one really expects a deep thought-provoking film with a premise such as First Sunday. It ends with a somewhat intolerable final scene where the entire town is brought together in a loving gesture of unity, and the camera focuses on everyone laughing inexplicably.
The film, directed by first time film director David E. Talbert, has the same feel as the Barbershop type films and has been directed in more or less the same manner. It is forgettable and light weight and a little funnier than Ice Cube's previous couple of Are We There Yet films which were embarrassing to watch. First Sunday is not rated PG although certain scenes may not be suitable for younger viewers, and so the film will not be greatly appreciated by those who actually do watch it. Since the year has already brought us great entertainment and especially since teenagers have had a barrage of comic book adaptations to choose from, I suggest the time spent watching this film be spent more wisely.