The runway… The models, hundreds of them… A collection of beautiful sarees, shalwas and some exquisite evening gowns… Sounds interesting? Go down to Cinnamon Grand two sundays from now, and you will see what I am talking about. And the designs are not all you will see either. There'll be plenty of stalls and some very interesting guest performances as well. All this and more at Fashion in Vogue organized by the Past Pupils' Association (PPA) of Holy Family Convent, to raise funds for on-going projects in the school.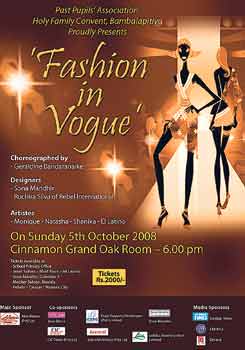 For years the past pupils of Holy Family Convent have helped raise funds for various development projects in the school. "This is our main fundraiser for the year" says Swarnamalie Fernando, president of the PPA. The funds collected will be mostly in aid of a planned retirement home project and the upgrading of the science laboratories in the school. In addition, funds will also go towards establishing an archive within the school, a venture that was decided at the Annual General Meeting of the PPA.
Fashion in Vogue promises to be an evening of entertainment and a collection of some very good designs, with around 500 participants expected to walk the runaway.
The fashion show, choreographed by Geraldine Bandaranaike, will also feature an ethnic collection presented by Sona Mandhir Designer Collection and an evening wear collection by Ruchira Silva of Rebel International. Past pupils of HFC, Natasha and Monique will be guest performers at the show. Other performances include those by Shanika Wanigasekera and a dance item by El Latino. There will also be several stalls, including stalls by the designers as well.
Fashion in Vogue will be held at the Cinnamon Grand Oak Room on Sunday October 5, from 6pm onwards. Tickets, priced at Rs. 2000/- are available at the school primary office, Rebel outlets at Crescat and Majestic City, Janet Salons at Ward Place and Mount Lavinia and at Mocher Salon in Nawala.
The main sponsor for the event is Akra Bakers Pvt Ltd. Co-sponsors for the event are Sureslim, Lalitha Jewellery Mart, C. I. C. Seeds Pvt Ltd, Sona Mandhir Designer Collection, Spectrel Joinary Pvt Ltd and Expo Property Developers Pvt Ltd., while TNL Radio Network is the exclusive radio partner, and Derena, the TV sponsor. The Sunday Times is the media sponsor for the event.