It is not often that kids get to devise and act in their own plays but through the Kids @ Play drama workshop, Prof. Neluka Silva guides a group of enthusiastic kids to do just that.
These kids have written stories which resulted in the plays they would finally perform which all started in March this year. Every year, according to Neluka, they have a theme, and this year's theme deals with mixed up priorities, in terms of how they tend to place value on material things. "It deals with issues that are very real to all of us, especially to the young group," she added.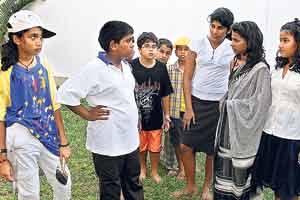 Written by Nimaya Harris (9) and subsequently developed by the participants is, Sara Perera Saves the School. It revolves around a group of school girls who confront the landlady, architects and builders involved in demolishing their school – and to sort out the sticky situation, the heroine enlists the support of her friends. Lara Modder (11) a student of Ladies' College, plays Sara Perera, and says she enjoys playing Sarah because, "she likes doing a lot of good things and she is confident and determined." With regard to the workshop, she says its fun, adding that playing a character the way you think is best, is a challenge but also a great experience. She has learnt to be more confident and to concentrate by participating in the workshop.
Uniformity Ltd. is about the "uniform" boss of the company, Mr. Functional who expects uniformity in the way his company runs - he feels he can earn lots of money this way. But things change when he employs Ms.Variety, who shows him the importance of other priorities. According to Neluka, this was part of a script which she had, to which she and the kids added more scenes.
Two siblings fight over their computer, by clicking various buttons and they bring to life princesses from well-loved fairytales. Thus the third play, Fairytale Mix-Up unfolds. The story completely devised by the kids is how the "good" King expects the princesses to help their father, to defeat his evil brother, and how they finally show him he should help his brother, instead.
Eran Fernando (11) a student at the Colombo International School, plays the second architect and the evil king. He initially didn't like the idea of acting, "my grandfather forced me to enter into an all island competition where I was placed runner-up at the finals," he said, adding that he drew a liking to acting from this point on. "I like playing the evil king the most because it is a difficult part to play as he does not have one particular personality."
A student from the Overseas School of Colombo, Yanika Amarasekera (13) says she has gained having more confidence on stage. She plays the role of one of the princess in Fairytale Mix-Up. "I like the role I'm doing because I get to be creative with it and make the role funny."
"I realised being part of a workshop could be a lot of fun," Neluka says about Kids @ Play, which started five years ago by word of mouth. And this was due to her own experience of being part of a drama workshop through the British Council, mainly with the help of Scott Richards.
Neluka has done some training at The Pegasus Youth Theatre in Oxford where she was able to brush up on most of the theatre techniques she knew, which provided her with a good foundation. The games and exercises she uses are constantly updated, wit h each workshop – "so each year there's something different," she adds.
"The workshop is an ideal place for the kids, since they can have fun while learning something, in a non-competitive environment," Neluka says, and goes on to explain how, in addition to the school activities, the extra-curricular activities focus on competition as well. Through Kids @ Play, she feels the kids can use their imagination to explore drama, adding that her main purpose is to build confidence in the kids and she also makes sure that every single child has at least a few lines to speak in the plays.
"What's really fulfilling is to see the way the kids develop," Neluka says. They are all so united and work as a team and are very comfortable with each other," she says, stressing on the importance of team work. She goes on to explain that these young actors and actresses do not follow a script, so if the cast feels one of their members might forget a line, the others get the vibe and helps them out. She also encourages the kids to pool in their ideas on what to do with the plays.
On speaking to two parents, they too agreed on how their kids have learnt to be more confident and also socialise and build friendships with kids from other schools, which they feel, is as important as the drama that they learn.
Once Upon a Mix-Up will be performed at the Punchi Theatre, Borella on September 26, 27 and 28 at 7 pm. Entrance is by programme and will be available at the theatre, please call them on 2672121 for details. Programmes are also available at Aashkii – 1, Maitland Crescent, Colombo 7. The media sponsors for the performance will be Real Radio and The Sunday Times.