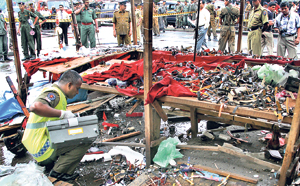 Police detectives carrying out investigations at the scene where a small time bomb exploded at a wrist watch stall at rush hour in Pettah yesterday.
Battered UNP at crossroads -
Political Column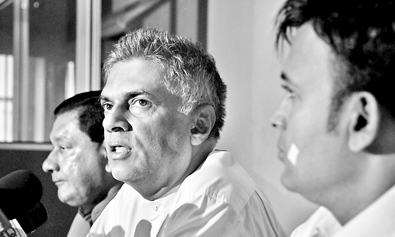 Last week's elections to the North Central and Sabaragamuwa Provincial Councils were different from all previous ones in many respects. It delivered different messages to the victor and the vanquished.
Veiled Sexuality
A woman swathed in black to her ankles, wearing a headscarf or a full chador , walks down a European or North American street, surrounded by other women in halter tops, miniskirts and short shorts.
Training with a twist
Training programmes come in all shapes and sizes. Brace yourself though, because this one won't have you rowing for dear life in the white waters off Kithulgala, or holding hands with the guy you hate from accounts;
Sandun enters cinema with 'Uththara'

Young teledrama director and playwright Sandun Rajakaruna begins his journey as a filmmaker with 'Uththara', a film produced by Vajira Rajapaksa.
Public sector retirement age at 63

The retirement age of some 1.1 million public servants may be raised to 63 in keeping with worldwide trends and the increase in life expectancy of Sri Lankans, a top official said yesterday.

At least 45 people were wounded, some critically, when a time-bomb exploded at Olcott Mawatha in Pettah shortly after noon yesterday, police and hospital sources said.

EDITORIAL

PLUS

Trapped in flames of hate
Tales of horror abound. Beaten, slashed even while pregnant, and severely burnt. Not by strangers but by the very lovers and husbands who have turned into monsters.

FINANCIAL TIMES

Presidential committee over Jayasundera affair

President Mahinda Rajapaksa, in a likely response to sustained coverage in The Sunday Times FT on the Supreme Court decision overturning the 'irregular' privatization of Lanka Marine Services Ltd (LMSL) and calls for Treasury Secretary Dr. P.B. Jayasundera to quit,

At the end of the highway

The empty handed Lankan Olympic contingent deplaned on our soil at midnight on Wednesday, sans much fanfare or glory seeking politicians and the social wannabe's who always follow those 'do-gooders' like their life's sins.

The first King of Gampola

Buwanekabahu IV is named as the 1st king of Gampola. His Prime Minister, Senadhilankara had employed four strategies to strengthen the security of the country.