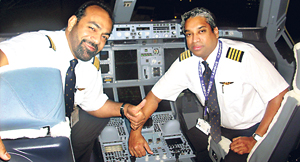 Picture shows -- Captains Suren Ratwatte (Right) and Suhail Hashim in the cockpit of the Emirates A380
The addition of the new Airbus A380 Super Jumbo aircraft to the Emirates fleet has provided two Sri Lankans with a unique opportunity to become part of this milestone in the history of the Dubai-based international airline.
Captains Suren Ratwatte and Suhail Hashim, who joined Emirates in 1989, are among the first of the airline's pilots to fly the brand-new aircraft, the airline said.
Captain Suren Ratwatte flew the prototype aircraft registered as F-WWDD out of Airbus Industrie's home airfield in Toulouse France on June 18, while Captain Suhail Hashim flew the same aircraft the following day. The two pilots were part of the first batch of Emirates crew to qualify to fly the huge aircraft, now being operated by Emirates between Dubai and New York.
"This is something that all Sri Lankans can be proud of," said Chandana de Silva, Emirates' Area Manager for Sri Lanka and Maldives.