Have you ever thought what it would be like to build your own mobile? OpenMoko is just such a project. The project is two faceted, one aspect focusing on creating the software for a smartphone, and the second working on creating the hardware platform for the software. And so, the Neo 1973 was born. This was a developers-only version of the phone, meaning it was a laboratory for the techies and software developers out there to explore and develop upon. And now, they are planning a consumer version, dubbed the Neo Freerunner.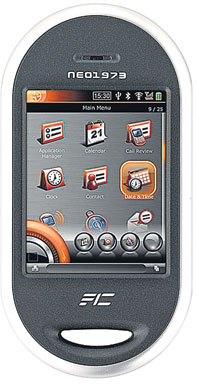 It's essentially, a touch panel phone with a 480x640 LCD screen. It connects to standard GSM networks through a tri-band (900/1800/1900) modem which is GPRS compatible, and has Bluetooth and USB connectivity. The standard device features 128MD of RAM, and expandable memory via a microSD card slot. The device is also equipped with AGPS for global location tracking. In addition to all of these features which were present in the original Neo, the Freerunner has 801.11b/g WiFi connectivity.
But the beauty and the ingenuity of the phone lies in the software side. It runs on what's called OpenMoko Linux, which is completely free and open source software (FOSS) which the users are welcome to modify. In contrast, the software which comes on your other day-to-day phones is completely copyright protected, and you can't mess with it. Even the supposedly liberal SDK for the iPhone 2.0 is under the discretion of Apple.
For the mobile world this is an entirely new concept. But FOSS is not new. It's already tried and tested in the server world. FOSS is what powers the Internet. OpenMoko is just taking things mobile.
But for developers unaccustomed to the world of Free Software, OpenMoko is the place to start. Excellent community resources are available to help with the learning process. And since OpenMoko runs libraries and components commonly found on the Desktop, the knowledge gained can be applied to the entire FOSS domain.
The vision for the makers of the phone is "If you can't open it, you don't own it." They say that whilst other mobile phone manufacturers make it illegal to open up and mess with the software and the hardware, the guiding principles of the OpenMoko project is quite the opposite. The developer kit version of the phone even comes with a toolkit for taking the thing apart.
We spoke a while ago about new technologies that the mobile industry is using. But the OpenMoko project seems to set the vision. A gadget where the users are welcome to hack, edit, create and modify: a mobile world where only your imagination will set the limits.