Cast: Jack Black, Angelina Jolie, Dustin Hoffman, Lucy Lui, Jackie Chan, Ian McShane
Director: Mark Osborne, John Stevenson
Running Time: 92 mins
Kung Fu Panda is the animated story about a clumsy Panda named Po (voiced by Jack Black) who aspires to one day become a great Kung Fu master. However, Po is trapped in a life selling noodles for his father, who is inexplicably a goose, until the great Master Oogway senses that the evil snow leopard Tai Lung (Ian McShane) will escape from his prison and return to destroy the valley and decides to choose the Dragon Warrior who will be able to defeat the snow leopard.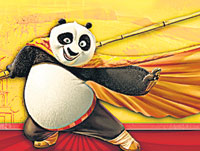 The dragon warrior will be given the secret dragon scroll which is said to contain a Kung Fu secret that will turn him into the greatest Kung Fu master ever. Everyone in the valley assumes that the Dragon Warrior will be chosen out of the Furious Five (Crane, Mantis, Viper, Tiger and Monkey) who have trained all their lives under Master Shifu (Dustin Hoffman) to become the Dragon Warrior. However after an incredible turn of events the chubby Panda Po is chosen as the prophesied Dragon Warrior and has to learn what little Kung Fu he can from Master Shifu who is determined to get rid of his new student.
The film begins with one of Po's dreams in which he imagines himself as a feared (and loved) Panda warrior whose legendary powers have brought him fame and respect. The dream is a throwback to the animation and fighting styles shown in the cartoon Samurai Jack. However, even after been chosen as the Dragon Warrior, Po finds himself ridiculed by his fellow five, played by Angelina Jolie (Tiger), Lucy Lui (Viper), Jackie Chan (Monkey), David Cross (Crane) and Seth Rogen (Mantis), often for his size and clumsiness. Finally after much effort, Master Shifu gives up trying to get rid of Po and decides to train him by using food as a driving force.
The script for the animation is one thing to look out for as it seems to have been made exactly with Jack Black in mind, who delivers a great performance as Po and the narrator in Po's dream which is one the highlights in the film. The movie isn't a laugh fest but it certainly has its humorous moments especially when Po is plunged into the Kung Fu world which he so religiously follows. Dustin Hoffman's sarcastic humour is also quite evident in his voice as Master Shifu who is exasperated by Po's overenthusiastic exploits. Ian McShane also does a great job as Shifu's old apprentice and arch enemy, Tai Lung. Wait, was I watching an animalised Kung Fu Star Wars?
The animation in the flick is as usual done by Dreamworks and is pretty flawless in its delivery. Po is especially funny to watch as his flabby body and intense expressions are hilarious especially when he's doing Kung Fu. If not for the humour and story, the film will keep you involved with its animation alone and will be worth watching on the big screen.
Apart from this Kung Fu Panda also has all the prerequisites of a funny animalised kung fu movie. It has the incredible fight sequences, the furry animals, the vocalised kung fu styles, the unheard of and seemingly unimaginative kung fu punches, kicks, powers and finger holds and last but not least the very necessary Carl Douglas "Kung Fu Fighting" soundtrack which has unfailingly appeared in almost all Kung Fu comedies.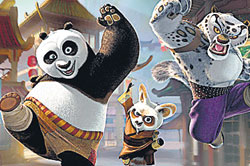 Coming into the movie I fell victim to some of the hype building up and my expectations were high.
However expectations have a funny way of never being met. The film was sufficiently funny for me to recommend, but with its story and Jack Black's notorious humour I expected to be tearing after the first 15 minutes. However, as much as I despise the animations which have been released as of late, with few exceptions, this one will not be forgotten or rubbished so easily. The characters are adorable and the story at the end is cliché and happy which I'm sure the kids (the chosen audience) and adults will enjoy very much.