Damith Eranga Cooray was born to be a designer. He knew this from a very early age, and as soon as he left school, applied himself to doing what he was born to do. Immediately after Advanced Levels in Kalutara, Damith joined the Clothing Industry Training Institute and completed their Diploma in Clothing Manufacture. After this he joined Sanchia Pvt. Ltd, a garment manufacturing company based in Bandaragama. Here he was assistant to a European designer who helped him to develop. In a few years Damith was promoted to the buying office of the same company, 'The Buying House' which specializes in Structured Wear, as their Offshore Garment Technologist.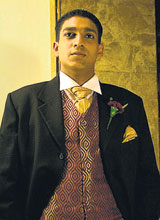 While working at The Buying House Damith watched the changing trends of the Sri Lankan garment industry. "Structured wear is uniforms, jackets and suits," he explains, making the point that "the technology in Sri Lanka is not advanced enough to make perfect structured garments." After making this observation he decided he wanted to change things a bit, and realized that "only through tailoring" could he achieve his goal. "I want to apply bulk techniques to the tailoring and Classical tailoring techniques to the bulk production" he explains, stressing that this helped to get a high quality final garment. To get this experience in tailoring Damith then joined a high-class tailoring boutique in the heart of Colombo. Here again, he made an observation which he believes is the failing of most garment producers in our country.
"You know when you go to a boutique to get a suit made, one person helps you pick the design, another person takes the measurements, yet another person does the cutting, someone else does the stitching and so on and so forth." This, he explains, takes the focus away from the customer and makes the garment a disjointed 'thing' and not a creative whole. Disgruntled by this fact Damith decided to open his own store, where he alone would work on the garments that were created there, making them works of art into which much effort has been put, "always keeping the customer in mind". Though he opened his own shop in Colpetty, due to the security situation and other reasons it didn't work out, and that's when this amazing idea dawned upon him; "I decided I would visit my customers!"
This ingenious idea quickly advanced Damith's career, adding many well-known personalities – including famous baritone Rohan de Lanerolle – to his list of regular clientele. The process is simple. Damith meets with a new client and discusses what needs to be done. Using his laptop, digital camera and design catalogues and magazines to explore and assess various colours and cuts which might suit the customer. With these, and the client's suggestions, he creates a special 'theme' for each customer, which he goes back to, whenever he creates a garment for that person. Once they have decided what the end product will look like, he takes and records the necessary measurements and moves on to other appointments, travelling most often by tuk-tuk.
Once all his appointments in Colombo have been completed for the day, Damith takes the bus back home to Kalutara. He spends the next few days working on the garments he has been commissioned to make during his visit to Colombo. He keeps his workshop simple, using just two lockstitch machines, an over-lock machine and a steam iron to form his creations. Once they are ready for fit-on, he calls his customers, makes appointments and heads back to Colombo, to repeat the process.
A few months ago Damith stepped to a new level, launching his own label Kiito. "It's the Japanese name for a thread of raw silk," he explains, proud that "there is a meaning behind it." Proving his creative entrepreneur skills further, Damith went on to do another first. For customers who make very large orders, he creates five personalized labels. These labels take 'branded clothes' to a completely different level carrying not only the regular 'Kiito' tag but also any personalization the client wishes.
At just 27 years of age, Damith Cooray is the only Sri Lankan to be a designer registered with the Textile Institute, UK and has surpassed his own expectations in his success as a designer and tailor. He is catering to a market which has, so far, been untouched. "In Sri Lanka, people don't want to stick to the normal clothes everybody wears," he says, adding that his customers are constantly adding to his designing knowledge.
Many related businesses, having been impressed by this young man's work, are reaching out to join him in his work. Sunil's, the only creator of hand-made footwear in Sri Lanka and Shirohana, the flower experts and Silver Storm, the jewellers provide free services to a selected number of Damith's clients. Stepping still further into unconquered territory, Damith commissions a portrait artist for weddings he has designed the menswear for. The artist attends the wedding, exercises his photographic skills and then creates a special water-colour portrait from the wedding for the home-coming. Damith also plans to join hands with Sunil's boutique in a big way in the future; where the two craftsmen will come together to create the complete personalized dressing experience: Damith's garments and Sunil's footwear.
This versatile young entrepreneur is definitely on his way to mega success with his passion. He does not, like most of us, sit and dream bit dreams. Instead he dreams them, plans how, and achieves those dreams.
To find out more about Damith's work, visit his website at www.kiito.net or call him on 0773026562.
Model – Gananath Dasanayaka
Photographer – Shehal Joseph
Hair and Make Up –Niroshan of Ramani
Location – Holiday Inn