When you think of a bar, chances are, you would think about a few drinks and a night out with friends. However, just on the edge of Deal Place on Duplication Road, the concept of going to a bar, is a very different idea all together. And where I am about to venture into in this month's restaurant review, is Bars Café.
Why 'Bars'… you would wonder. Well, the reason behind it, I was told, by Ruvini Kariyawasam, Business Development Manager, Perera and Sons Bakers, is because "there are a number of bars or food stations to choose from." Bars Café opened in November 2007 and is owned by Perera and Sons Bakers and this is one restaurant which gives its customers a large variety of dishes to choose from because as Ruvini puts it, "We wanted to have everything under one roof, so that the customers would have a choice and a variety to choose from."
And the bonus is how reasonable the prices are. "We want to have quality, quantity and good prices," Ruvini said, therefore making it affordable to anyone who wants to have a good meal, snack or beverage. The restaurant is bustling especially during lunch time and, there is literally a constant flow of people of all ages and backgrounds, who visit the café.
The various 'bars' include, the Salad Bar, Sandwich Bar and Pizza Bar, along with the Rice Bar, Pasta Bar and Pot Bar. In terms of beverages they have the Squeeze and Shake Juice Bar and Coffee Bar and of course for those of you with a sweet tooth – the Dessert Bar.
If you are health conscious, there is some good news, as they will soon be introducing the Lean Bar at this outlet. The items here will include vegetable juices which will include juices like cucumber and carrot juice and in addition they will have health bread sandwiches, grilled chicken as well as low fat salads and pastas.
The restaurant has been popular from its inception, and Ruvini says that they have customers who have been patronizing them from the start. When having a restaurant at a location like Duplication Road, parking is a very important factor to be considered – and they have ample parking!
The items on the menu are available throughout the day, however the Hoppers, String Hoppers and Mongolian food are only offered in the evening, and Rice and Curry is only available during lunch time.
The Pot Bar is an interesting concept with the dishes being served in pots, including the baked crab, chicken casserole and the cheesy seafood pot, to name a few. Out of the options available throughout the day, you can try the Sunrise Special out of which the option of eggs, garlic sausages, grilled tomatoes and sauté potatoes and toast is a scrumptious option and also bagels and cream cheese with smoked salmon. In addition, waffles with various sweet and savoury toppings can also be ordered, throughout the day.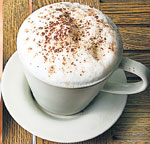 If salads are your thing, there are a quite a few to choose from out of which you might want to try out the Gourmet Delight Salad. Sandwiches with the various types of bread all baked in-house, are worth trying, as well as the Arabic Cheeser which is toasted Arabic bread with cheese along with a filling, like Wasabi Tuna, or Mustard Egg Mayonnaise – a signature dish at the café. Their Godamba Wraps with a variety of fillings are also a popular option. And taking a bite into one of their burgers, which is yet another hit, the freshness certainly does come through. Also in keeping with the idea of having a variety of dishes, the option of a number of pasta and pizza dishes are on offer for you if you like Italian food.
The Asian Bar which serves tradition Sri Lankan food is said to be a popular choice. In addition the Rice Bar, also has some interesting options of the traditional rice and curry or the infamous Lump Rice or Nasi Goreng, or if you like noodles the spicy Mee Goreng is worth a try.
Grilled Prawns in Garlic Sauce or Chicken Satays with Peanut Sauce are available off the grill and if you would like something sinfully greasy they have that option too, like Battered Prawns with French Fries or Spicy Parsley Potato Wedges.
Fresh fruit juices are galore, and their milkshakes are truly amazing. And if its hot beverages you need, Cappuccino, Café Latte or even Hot Chocolate, just to name a few, are also available.
And then there's the Dessert Bar! The seemingly endless options range from delights such as the Sticky Date Pudding with Butterscotch Sauce and Vanilla Ice Cream, to the Viennese Brownie, Cream Cheese Cake or the popular Lemon Meringue Pie.
Bars Café will be introducing some new dishes like the chicken keeve, pepper steak, sausage pizza, vegetable au gratin, steamed rice with sweet and sour fish, club sandwich and the black forest cake.
If you would like to dine under the stars, you can do so on their rooftop which has an amazing view of Colombo. And you can also hire the rooftop for parties or cocktails. They also have a number of promotions coming up such as Dessert, Mongolian or High Tea, with their High Tea being served the traditional way on a three tiered cake stand – all of them happening during the next three months.
Bars Café is situated at No. 24, Deal Place, Colombo 3 and you can contact them on 478 6678 or 257 5157. They also take on outdoor catering and delivery through Hot Wheels and they can be contacted on 492 5585. So treat yourself at Bars Café when they open their doors from 11am to 10pm from Monday to Thursday and from Friday to Sunday from 11am to 11pm.