Media groups have told the Sri Lanka Human Rights Commission that Minister Mervyn Silva's failure to appear before the Commission to answer allegations of having attacked the Rupavahini News Director amounted to contempt of the Commission.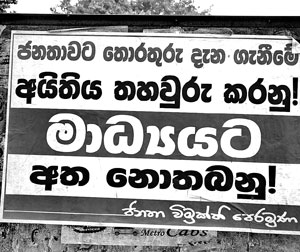 This poster in Sinhala calling for 'hands off the media' appeared on City walls this week
The parties that have filed the complaint – the Sri Lanka Working Journalists' Association (SLWJA), the Free Media Movement (FMM), the Federation of Media Employees Trade Union (FMETU), and the Sri Lanka Muslim Media Forum (SLMMF) – lodged their complaint when the inquiry was taken up for hearing on Thursday. While the first respondent, Minister Mervyn Silva, was absent for that day's hearing, a Sub-Inspector of the legal branch of Police Headquarters appeared on behalf of the two other respondents, the OIC of the Cinnamon Gardens Police and the Inspector General of Police (IGP).
A ministry official speaking on behalf of Minister Silva informed the Commission that the minister had gone abroad for medical treatment and that a lawyer had been appointed to appear for him. However, no lawyer turned up at the hearing. The media organisations pointed out that the minister should have either submitted a medical certificate or retained a lawyer to represent him.
At the hearing, those representing the media organisations were SLWJA president Sanath Balasooriya and secretary Poddala Jayantha; Sunanda Deshapriya of the FMM; Dharmasiri Lankapeli of the FMETU, and Thaha Muzzamil of the SLMM. They were accompanied by their attorney, Shiral Lakthilaka.
The next hearing has been fixed for June 30.